Interview: Monster Truck – Have Beards, Will Travel

At the end of May, Monster Truck came home to Hamilton, ON, after a well-documented 10-week tour that covered parts of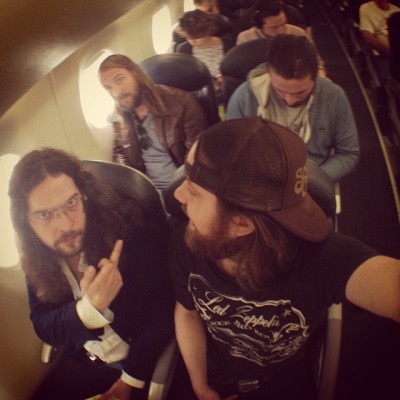 Europe and the US – it's the longest they'd been away from their pads.
Although briefly left behind, the band's loyal Canadian contingent of fans were able to sit by their screens and digest nuggets of rock n' roll conquests. From a distance, Monster Truck looked as huge as their name would suggest.
Throughout their travels, Monster Truck's official Facebook page became filled with not just glory shots of on-stage successes, but also images of four friends – Jon Harvey (vocals, bass), Jeremy Widerman (guitar, vocals), Brandon Bliss (keys, vocals), and Steve Kiely (drums, vocals) – having fun with their well-paced global climb.
"When people from the outside check in on us every three to four months, it may seem like we've gotten bigger, quickly," offers an adjusting-back-to-home-life Widerman in an interview with Riffyou.com. "But, being on the inside and seeing what it takes day-to-day and how much work we put into getting from point A to point B, it all feels very gradual to me."
Unlike a number of musicians in a similar position to Widerman and Co., he's okay with dispelling the notion that Monster Truck has become this free-wheeling musical juggernaut that's taking over the rock scene and leaving screaming fan boys and gals behind. He's more modest than that, and refreshingly realistic. He even opts to point out that the social media documenting of the band's adventures is far from contrived, and really just something the guys do when the feeling is right.
Going with a feeling of that sort is something that many young bands have to do in order find their footing and realize where they're at. For Monster Truck, this 10-week jaunt provided the guys with many feelings, largely due to the varying circumstances they found themselves in.
In Europe, Monster Truck was a headlining act, selling out rooms of 200-300 strong. While on American soil, they were the openers for Alter Bridge and Alice in Chains, just hoping to bring some new fans over.
"I don't know if it was a bigger experience, but it was definitely a more surprising experience because of the headlining shows we were doing in Europe. We didn't really know what to expect going into those," admits Widerman when discussing the overseas run. "I was a little nervous that we'd get into embarrassing situations where we'd go to these places and not have any people show up. But, that was not the case. We didn't realize how much [our following] had grown since we'd been there."
What made the US especially interesting for Monster Truck was that the markets they played were largely virgin territory.
"A lot of the shows we had done on the six-week tour with Alter Bridge and then Alice in Chains, was us introducing ourselves to people and playing to a lot of these crowds for the first time," says Widerman. "It's hard to judge what the hard rock fans are like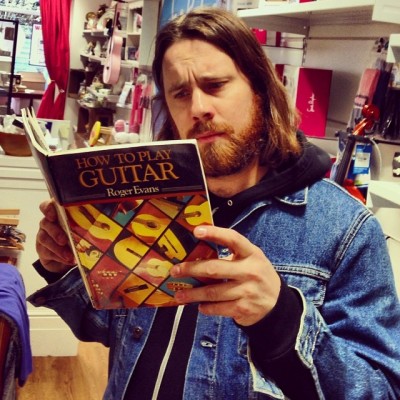 in America. Even though we haven't seen that [European] kind of excited exuberance from those people yet, we haven't gotten far enough to judge how our crowds are going to be in the US."
Widerman adds that part of the problem stateside is the fractured nature of the rock n' roll community – not in terms of the relationships bands have with one another, but more or less how certain regions of the country react to the music. While a little disappointed that Monster Truck hasn't yet managed to carve out a bigger spot down south, Widerman continues to insist a significant effort to achieve that will continue to be made.
As for this summer, the guys are primarily gigging across Canada with the odd European and US date slipped in for good measure. Oh, and even though their latest album Furiosity is just over a year old, work has already begun on the follow-up.
When speaking about a direction, Widerman explains that the band is not going to veer far from the sound that has gotten them to this point. But, he expects there to be a few new numbers that will be slightly mellower in terms of tempo, realizing that it's important to have the odd breather-of-a-track sprinkled into the set.
"We're not looking to re-invent the wheel," says Widerman. "We still love to play rock music, and I don't think there's any reason for anyone to expect anything vastly different from the last album.
"Looking back, Furiosity came out a year ago and it's hard to believe time has gone by that quickly," he continues. "It does seem like we were just getting ready to release that yesterday. But, everything that has happened since then has been a steady climb and it's been part of a bigger plan."
­-Adam Grant
-Photos courtesy of Monster Truck
Tour Dates:

Jun 12, 2014
Manchester, TN
Bonnaroo Music Festival @ New Music on Tap Lounge brewed by Miller Lite
w/ Jack White, Flaming Lips and more
Jun 14, 2014
Burlington, ON
Burlington Sound of Music @ Festival Stage
Jun 15, 2014
Winnipeg, MB
Red River Ex
Jun 20, 2014
Bilbao, Spain
Azkena Rock Festival
w/ Seasick Steve, Scorpion and more
Jun 28, 2014
St Catharines, ON
SCENE Music Festival @ Montebello Park
w/ Matthew Good & The Sheepdogs
Jul 1, 2014
Toronto, ON
W/ The Sheepdogs, Matt Mays and Head Of The Herd.
Jul 8, 2014
Calgary, AB
Calgary Stampede @ Coca – Cola Stage
Jul 9, 2014
LLOYDMINSTER , AB
LLOYDMINSTER EX
Jul 11, 2014
Kelowna, BC
Keloha Music and Arts Festival
W/ The Naked and Famous and Local Natives
Jul 12, 2014
Colwood, BC
Rock the Shores @ Juan de Fuca Rec Centre
w/ Billy Talent, The Naked and Famous, 54-40 & Sloan
Aug 2, 2014
REGINA, SK
MOLSON CANADIAN LIVE GRANDSTAND, QUEEN CITY EX
w/ Seasick Steve, Scorpion and more
Aug 9, 2014
Montreal, QC
Heavy Montreal @ Parc Jean Drapeau
W/ Metallica & The Offspring
Aug 10, 2014
Prince George, BC
Prince George CN Centre
w/ Alice in Chains
Aug 11, 2014
Dawson Creek, BC
EnCana Events Centre
w/ Alice in Chains
Aug 13, 2014
Lethbridge, AB
Enmax Centre
w/ Alice in Chains
Aug 15, 2014
Bismark, ND
Bismark Civic Center
w/ Alice in Chains
Aug 16, 2014
Moorhead, MN
Bluestem Centre for the Arts
w/ Alice in Chains
Aug 18, 2014
Peoria, IL
Peoria Civic Centre
w/ Alice in Chains
Aug 19, 2014
Indianapolis, IN
Murat Theatre
w/ Alice in Chains
Sep 12, 2014
Huntsville, ON
Muskoka Sound @ Lion's Lookout
w/ Walk off the Earth