Alexisonfire Drummer Getting Saucy in the Food Industry

It's tough to say whether or not Alexisonfire has ever been described as a delicious, or tasty band, but their drummer Jordan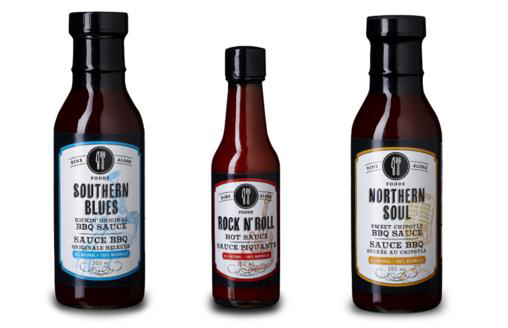 Hastings (who is now a part of rock act Say Yes), may be trying to change that by entering the food industry.
At Canadian Music Week (May 6-10), Hastings along with Dine Alone Records founder Joel Carriere, will officially launch Dine Alone Foods and introduce the world to some saucy options. First  out of the gates will be a collection of "all-natural" sauces, including classic Southern Blues BBQ sauce; a sweet smoky Northern Soul chipotle BBQ sauce; as well as a spicy Rock N' Roll hot sauce.
"We are thrilled that we could bring our experiences and passions together to create Dine Alone Foods. During our time touring together, we experienced so many amazing food scenes around the world, which inspired us to develop a line of sauces to reflect that," says Carriere. "We can't wait to officially introduce these delicious new products to Torontonians during Canadian Music Week."
"Being a musician is all about using your sense as a guide," adds Hastings. "The passion that goes into writing and playing a piece of music is one in the same with using your senses to create a dish with the perfect ingredients."
To bring the flavours to the people during CMW, local Toronto restaurants and food trucks will provide free food items topped with the Dine Alone Foods sauces. Giveaways will also occur, and interested parties are encouraged to keep an eye on Twitter (@dinealonefoods and @foodtrucksTO, using #Tweet2Eat), for clues on how to get in on the action.
Hogtown Smoke Food Truck will offer a Dine Alone sampler platter that'll feature foods coated in the sauces, along with a download card for a 22 song Dine Alone Records music sampler.
Let's Be Frank (689 King St. W.) will offer exclusive Dine Alone Dogs, three hotdogs, each of which will feature a different Dine Alone Foods sauce.
In addition to these establishments, the sauces can also be tasted at Boots and Bourbon, as well as The Dog and Bear. Visit Dinealonefoods.com to find out where to grab your bottles.
-Adam Grant
Please be sure to follow us on Twitter @riffyou and at Facebook.com/riffyou.