Getting to Know: Catchy Rockers, Offensive Senses

In today's Getting to Know, we meet Offensive Senses, a band whose music has been compared to what you'd hear in a Tony Hawk Pro Skater video game. If you are in an up and coming band that would like to partake in a Getting to Know feature, contact [email protected] to receive the questionnaire and instructions. Thanks!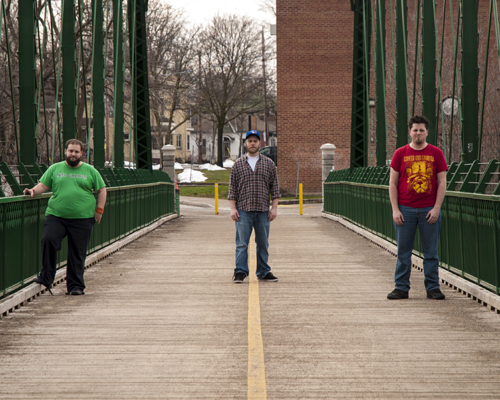 Band Name: The Offensive Senses
Band Members: Aaron VanDuynhoven (vocals/guitar), Greg Ilton (bass), and Jason Spence (drums)
Years Active: 2
City of Origin: London, ON
Who are you and what do you do?
"We are a three-piece catchy rock band with bits of punk and ska thrown in. We're a little bit nerdy and a little bit goofy."
In 100 words or less, tell us how your band has gotten to this point.
"Jason and Aaron were in a band years ago that fell apart. Aaron spent some time in a metal band in between, and when that didn't work out we started jamming again. Started out acoustic, doing some open mic nights, then decided to make it a real band and found Greg on Kijiji. We jammed for about six months, and then started recording and playing shows."
What is your latest release and how would you best describe it to someone who hasn't heard your band?
"Our debut EP Random Phrases came out in August of last year in a digital only form. We've been selling it through Bandcamp, and on Dropcards download cards made up to look like an old GameBoy game…complete with cases. We're heading back to the studio to track two more songs that we'll be adding to the EP before putting out a CD version and getting it on iTunes, rdio, etc. Anyone who has already bought the EP will get those songs for free."
When making an album, which aspect of the process do you put the most time into and why?
"Rehearsing, mainly because we procrastinate on song writing a bit too much, and production/recording tends to go pretty quick for us. Though, we do have a couple unfinished songs we've been jamming on since we started this band. Sometimes songs just come together all at once."
What is the best part about your band and why?
"The positivity and how much fun we have. We're all older and not really angsty anymore, so we just want to have fun, and have a good time with people."
What makes your band unique from the rest?
"That's a tough call. We try to do to stand out by just doing what we like and putting our personalities into it. We get told we have a lot of '90s sound in our music, which makes sense, since we grew up in the '90s and that's when we all got into music."
 How does your band survive the challenges of touring/gigging?
"Not a lot of sleep, working around our day jobs, and other bands sharing gear so we have a slightly more comfortable ride in our (borrowed) vehicle."
 Would you rather be critically-acclaimed; rich and famous; or an under-the-radar band with a dedicated fan base?
"Honestly, any of those would be great, as long as we get to make the music we want to make. If we can find an audience, however big, who like what we do enough that we can keep doing it, that's all I really ask for. Anything else would be a bonus. Obviously, we'd love to make a career of this, but we'll be doing it either way."
If you'd have to compare your band to another one out there, living or dead, who would it be and why?
"I've heard comparisons to Foo Fighters, Green Day, Less Than Jake…I think my favourite quote was something along the lines of how we sound like the Tony Hawk Pro Skater games, which seems about right."
Which band/musician would you like to share many drinks with? What would you talk about?
"Probably Devin Townsend. He's hilarious, inspiring, and a really nice guy from everything we've seen and heard. We'd drink tea and talk about puppets, science fiction, what to do with having way too many ideas, and probably try and get some tour stories out of him…especially from the SYL days."
Please be sure to follow us on Twitter @riffyou and at Facebook.com/riffyou.