Alexisonfire Touring Down Under in January w/ The Dirty Nil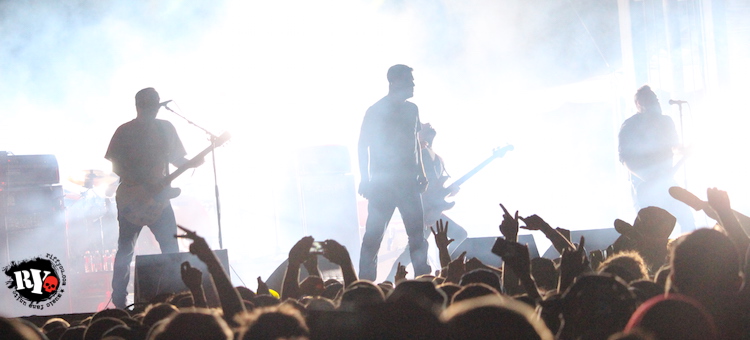 In case anyone was wondering whether or not Alexisonfire would do any type of touring following their brief run of reunion dates in 2015, your answer is now here: the boys are back, again. This time, however, the Canadian hardcore heroes will embark on a run of Australian and New Zealand tour dates in 2017.
The quick jaunt will begin on January 10 at the HBF Stadium in Perth. For all dates, apart from the last one, Alexisonfire will be accompanied by rising Canadian rockers and Dine Alone Records label mates, The Dirty Nil. Ticket info is available here. The full schedule can be seen below.
"Yeah, I was. As a musician, the positive reaction to your music is when you play live – when you share your music with people," said Wade MacNeil of Alexisonfire when Riffyou.com asked him in 2015 if he was surprised by how excited fans were to learn of the band's reunion shows. "People's reactions online are usually an overwhelming cesspool of vile and hate, no matter what anybody does. So I was really surprised by how overwhelmingly positive it was. I guess it speaks to how much people love the band and how lucky we were to have fans that were so amazing…and we still have fans that are so amazing. It's weird to talk about [the band] not in the past tense."
He continued: "Somebody came to me the other day and said, 'Hey, your band is getting back together!' And honestly, it took me a minute."
Tour Dates:
Perth
Wednesday 11th January – HBF Stadium – All Ages
Adelaide
Friday 13th January – Adelaide Entertainment Centre – All Ages
Tarwin Lower
Saturday 14th January – UNIFY FESTIVAL
Melbourne
Tuesday 17th January – Festival Hall – Licensed All Ages
Sydney
Thursday 19th January – Hordern Pavilion – All Ages
Brisbane
Saturday 21st January – Riverstage – All Ages
Auckland
Saturday 23RD January – Powerstation – All Ages