Ron Burgundy & Robin Thicke Duet for Anchorman 2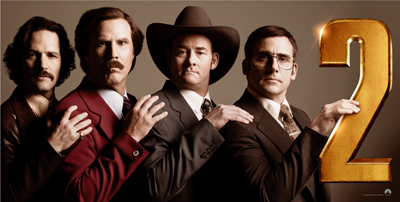 Well, it was only a matter of time before the sexiest mustache in news and the son of a Thicke partnered up for a track. To be heard on the Anchorman 2: The Legend Continues soundtrack, Will Ferrell's character, Ron Burgundy, and Robin Thicke's character, Robin Thicke, partner up for a cover of Christopher Cross' 1980 hit, "Ride Like the Wind."
Thicke does the majority of the heavy lifting within the six-minute track, with Burgundy jumping in with well-timed one-liners that zing Thicke and help boost his own ego. Oh, and there is a jazz flute solo.
Republic Records posted the song upon YouTube on December 9, and at the time of this writing it has only received a modest 48,489 views.
The soundtrack will be released on December 17.
No less, it's worth a listen, so scroll down for more.