Dine Alone Records Releases Annual Holiday Sampler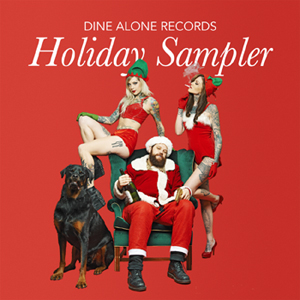 Dine Alone Records has released its annual holiday sampler, which can be downloaded today for the price of…free!
The compilation includes 22 tracks from the label, including selections from Grammy-nominated group The Lumineers, as well as hooky rock favourites Jimmy Eat World. Also onboard is excellent Canadian talent like Alexisonfire (with a re-mastered version of "Little Girls Pointing and Laughing"), Monster Truck, Dinosaur Bones, and Hannah Georgas. Newer Dine Alone signings We Are Scientists, Twin Forks, Lucius, and Brendan Benson also make appearances.
Mike Peters of our heavy friends, Cancer Bats, is the "Bad Santa" upon the album's cover art.
Those who download the sampler and supply their pertinent information, will be instantly entered into a draw to win 1 of 20 massive prize packs from Dine Alone, Yamaha, Jansport, Sector 9, West 49, Denon, Olloclip, RTRBLZY, Hex and DA Foods.
Here's the tracklisting:
01. The Jezabels – "The End"
02. Lucius – "Turn it Around"
03. Sleepy Sun – "11:32"
04. Solids – "Traces"
05. Alexisonfire – "Little Girls Pointing and Laughing"
06. Cerebral Ballzy – "Better in Leather"
07. Fidlar – "Awkward"
08. Dinosaur Bones – "Sleepsick"
09. We Are Scientists – "Dumb Luck"
10. DZ Deathrays – "Northern Lights"
11. Clear Plastic Masks – "Baby Come Home"
12. Monster Truck – "Psychics"
13. Brenden Benson – "Diamonds"
14. The Weeks – "King-Size Death Bed"
15. Twin Forks – "Cross My Mind"
16. Shovels & Rope – "Boxcar"
17. The Lumineers – "Submarines"
18. HBS – "Verities"
19. City and Colour – "Two Coins"
20. Jimmy Eat World – "Bye Bye Love"
21. The Dodos – "Substance"
22. Hannah Georgas – "Fantasize"