Interview: Cancer Bats Bashing Out New Music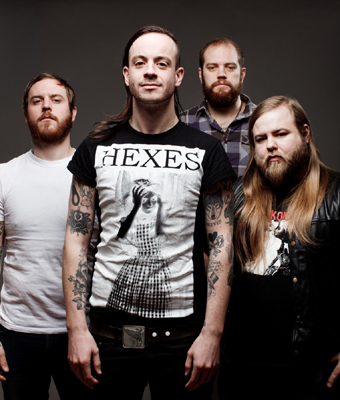 "Riff wise it's going to be the best Cancer Bats record. Process wise, it's definitely going to be outside of the box," explains Cancer Bats howling frontman Liam Cormier who when catching up with RiffYou.com had spent much of his time lately in the basement of his apartment building constructing songs for what will be this hard-rock band's fifth album.
Although Cormier's enthused that his band is working on the follow-up to 2012's Dead Set on Living at "a breakneck pace," he admits that he and fellow Cancer Bats – Scott Middleton (guitar, backing vocals), Mike Peters (drums) and Jaye R. Schwarzer (bass, backing vocals) – are taking their time with this album. However, at the rate in which the Toronto-based quartet is going, that may be easier said than done.
When speaking with RiffYou.com in late November, Cormier says that the band had already recorded 13 tracks in the matter of two weeks. Basically, he explains, a new song comes about whenever the quartet gets down to the basement. Once recorded, each track is then put away, ignored for the time being, and the band moves onto something else.
"In December we'll have this massive collection of songs and be able to go through them and see if what we did was worthwhile," relays Cormier. "They're rad," he continues when discussing how the songs feel to him right now. "We jammed [some of them] just once two weeks ago and those songs are still in my head, so they must be keepers. The songs I don't remember, they probably suck."
Cormier expects to have a stockpile of at least 30 songs to select from for album number five, an offering that'll come from a band who after eight years of existence has realized the importance of coming at the band thing from the right angle.
"It's definitely crazy to be at this point and still feel like it makes sense to do this. It's not like we've been in a band for eight years and wondering if anyone cares," says Cormier. "The loose idea of the band is that we are doing this for fun. Regardless of it actually being our jobs, we still need to enjoy what we're doing and have fun with it. That's our number one priority and [we don't think] 'we need to be this big or make x amount of money.' At this point, if we're not having fun, then we can easily go and get jobs that'll make us more money than being in this band."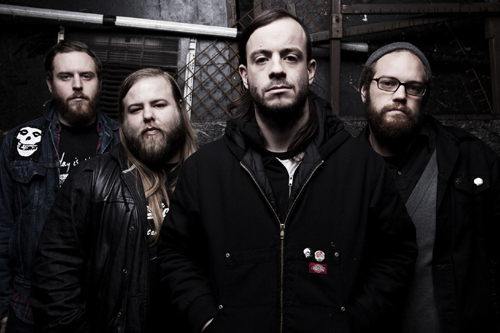 Helping keep the band on the rails is their newfound ability to find and maintain identities outside of Cancer Bats. Cormier explains that this proved challenging in the band's early days because they couldn't afford to do anything but tour, and that dedication to the music was so supreme.
"[Cancer Bats] is the most important thing to us, but we [now] have other stuff that we can do. It's good to have that focus as well."
In Cormier's case, the "other stuff" includes riding motorcycles with folks that appreciate the fact that he is a musician, but don't see him as just that: "It is cool to be in a completely different scene and have people say: 'oh, you play music? That's cool. Anyways…'"
Moving ahead, a timeline for the new Cancer Bats album hasn't been nailed down, but the band will continue to tour through pockets of North America up until Christmas. In addition to a headlining slot at Burly Calling VII, the guys will also perform double-headlining sets as Cancer Bats and Black Sabbath cover band, Bat Sabbath, in Hamilton and Peterborough, ON.
-Adam Grant