Bad Religion & Against Me! Touring America This Fall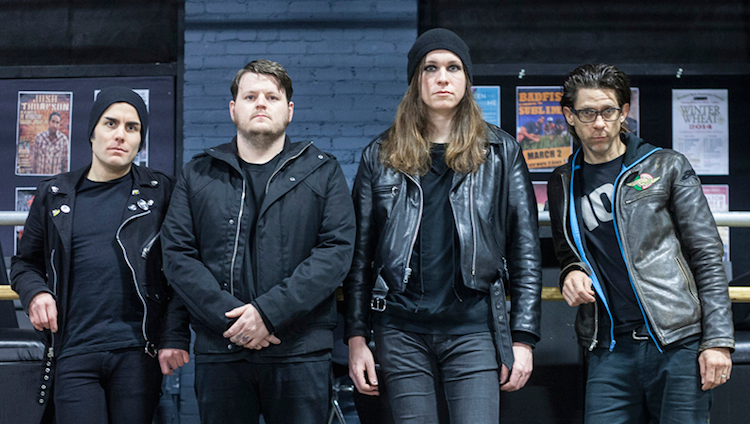 Punk rockers and social activists unite, because Bad Religion and Against Me! will be joining forces this fall for an American tour to feature more piss and vinegar than fish and chips restaurant with an open bar.
The jaunt begins on September 30 in New Jersey, before wrapping up on November 3 in Arizona. Dave Hause of Loved Ones will open these gigs.
In a recent interview with Rolling Stone, Laura Jane Grace revealed that the new Against Me! album should be coming in the fall.
"They're love songs," said Grace of the album's theme. "I'm feeling like I'm in a place where I can write about things that I've never been able to write about before. It's a fairly cliché topic but it's also always relevant. Being able to write about love through a trans lens is something that's not really represented when it comes to love songs."
Meanwhile, Jay Bentley of Bad Religion let TMDQA in on new music from his band.
"We are thinking of starting later this year, going into the studio, so that's why we have some tour dates that do not have really any other purpose than to make the band learning to run with [new drummer] Jamie [Miller.]
Continued Bentley: "Then [we'll] enter the studio at the end of the year and probably release an album early next year. This is part of a plan. Plans change, especially when you have a 36 years career – you never really know what you will do. I'm usually the man with the calendar, so I have to block the agenda and see something there by October, then October is scratched in pen. But everything that comes after that is 'Who Knows?'"
Tour Dates:
Friday, September 30, 2016 Starland Ballroom Sayerville, NJ
Saturday, October 01, 2016 The Paramount Huntington, NY
Monday, October 03, 2016 Irving Plaza New York, NY
Wednesday, October 05, 2016 The Fillmore Philadelphia, PA
Thursday, October 06, 2016 The Fillmore Silver Spring, MD
Saturday, October 08, 2016 The Fillmore Charlotte, NC
Sunday, October 09, 2016 The Buckhead Theatre Atlanta, GA
Tuesday, October 11, 2016 House of Blues Orlando, FL
Wednesday, October 12, 2016 Jannus Landing St. Petersburg, FL
Friday, October 14, 2016 Warehouse Live Houston, TX
Saturday, October 15, 2016 The Aztec Theater San Antonio, TX
Sunday, October 16, 2016 House of Blues Dallas, TX
Tuesday, October 18, 2016 Bank Theatre at the Midland Kansas City, MO
Thursday, October 20, 2016 In The Venue Salt Lake City, UT
Friday, October 21, 2016 The Foundry Hall Las Vegas, NV
Monday, October 24, 2016 McDonald Theater Eugene, OR
Wednesday, October 26, 2016 Shobox SoDo Seattle, WA
Thursday, October 27, 2016 Roseland Theatre Portland, OR
Saturday, October 29, 2016 Ace of Spades Sacramento, CA
Sunday, October 30, 2016 Warfield Theatre San Francisco, CA
Tuesday, November 01, 2016 Riverside Municipal Auditorium Riverside, CA
Friday, November 04, 2016 Hollywood Palladium Los Angeles, CA
Thursday, November 03, 2016 Marquee Theatre Tempe, AZ