Baseball Boots Lorde Music Out of San Francisco

Had Lorde sang "we will never be giants," perhaps this whole situation could've been avoided.
As the San Francisco Giants and Kansas City Royals get ready to kick off Major League Baseball's World Series on Tuesday night,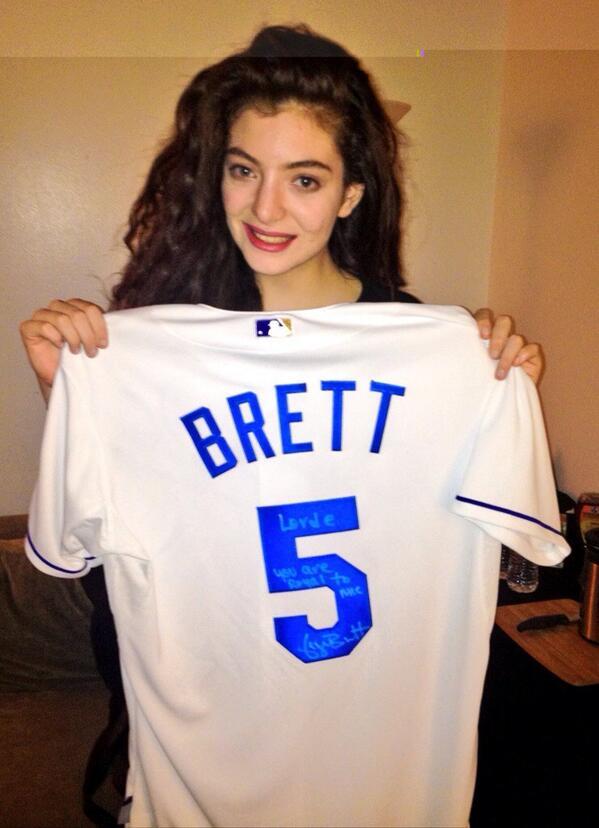 a pair of San Fran radio stations have opted to remove Lorde's "Royals" from their playlists.
Making the announcements via Twitter, KFOG Radio and 96.5 KOIT let it be known that for the duration of the fall classic, Lorde's monster track will not appear on their airwaves.
In response, Kansas City radio station 99.7 The Point, have declared that it will play "Royals" at the top of every hour on the opening night of the World Series.
Even though the song clearly says, "we will never be Royals," these San Francisco stations are making the right call.
You see, earlier this year in an interview with VH1, Lorde mentioned that the song was partially inspired by an image of Kansas City Royals legend, George Brett, in a 1976 issue of National Geographic.
In March, she received an autographed jersey from Brett, before meeting and being photographed with him in April.
"I'd been kind of thinking about writing that song for a while and been pulling together a couple little lines here and there, and I had this image from the National Geographic of this dude signing baseballs," said Lorde. "He was a baseball player and his shirt said Royals. I was like, I really like that word, because I'm a big word fetishist. I'll pick a word and I'll pin an idea to that."
-Adam Grant
Please be sure to follow us on Twitter @riffyou and at Facebook.com/riffyou.