Out for Blood? Then Try 'The Slayer Pizza'

It's no longer uncommon to hear "Slayer!" screamed at least once from a concert crowd, or to visit YouTube and find a dude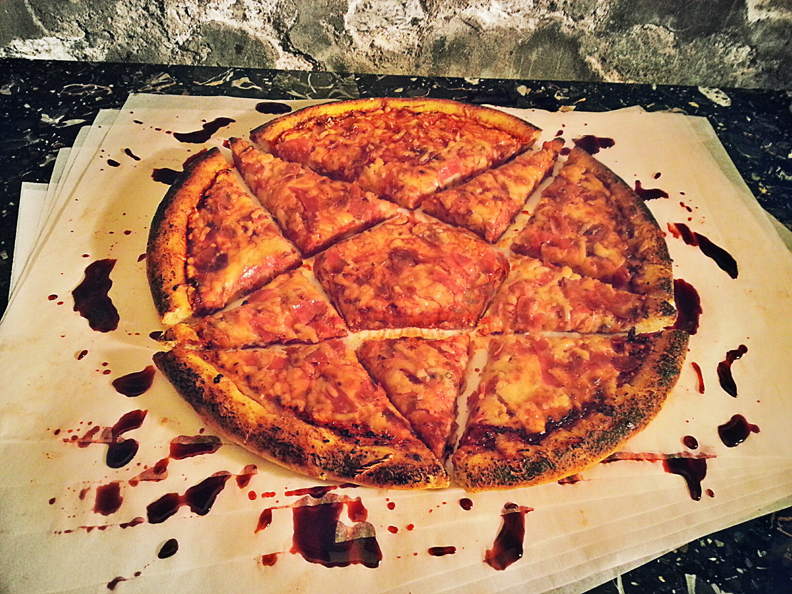 covering "Raining Blood" on a banjo.
Now, it's not uncommon to find a chef that wants to feed the faces of metal fans between headbangs. Ladies and gentlemen, Satanists and casual horn-flippers, let us introduce you to The Slayer Pizza.
Created by Chef John Hurkes of The Bulldog N.E. restaurant in Minneapolis, this pentagram cut slab of perceived deliciousness consists of Chopped Fra Mani toscano, soppressata, finocchiona, Cypress Grove "Lamb Chopper" cheese, house marinara, signature communion wafer crust, and an altar wine gastrique.
This hellish pie is inspired by Slayer's 1986 "thrasterpiece," Reign in Blood. Meanwhile, the assigned 'tasting notes' is littered with some quintessential metal imagery and references sure to help build a heavy, hedonistic appetite.
"Behold, the Slayer pizza. A vast sadistic feast, the only way to eat it is going piece by piece. The flour was stone ground from 350 communion wafers and kneaded together on an altar of sacrifice. It's baked at a chilly 400 degrees and finished as the communion wafer crust starts to burn. These delicious ingredients were almost all purveyed from California, where it is said that thrash metal has its roots. As the pizza is sliced and "Angel of Death" is unleashed, you will scream along with the first taste. The smooth tang of the sheep's milk cheese is offset in quintessential madness with the handcrafted salami. Like Jesus on the cross, heavy guitars rip through meat and cheese, exposing the unholy red sauce underneath. With the whirlwind beating of drums and those classic Slayer riffs, the pizza is soaked with a torrential altar wine gastrique. Raining blood from a lacerated pie! It should take just under 30 minutes to finish, and with six and a half years worth of communion bread servings you might want to share it with your friends."
-Adam Grant
Please be sure to follow us on Twitter @riffyou and at Facebook.com/riffyou.