Getting to Know: Multi-Pronged Rockers, The Mackinaws

In today's Getting to Know, we meet The Mackinaws, a Hamilton, ON, rock collective that isn't shy about sharing many different voices. If you are in an up and coming band that would like to partake in a Getting to Know feature, contact editor@riffyou.com to receive the questionnaire and instructions. Thanks!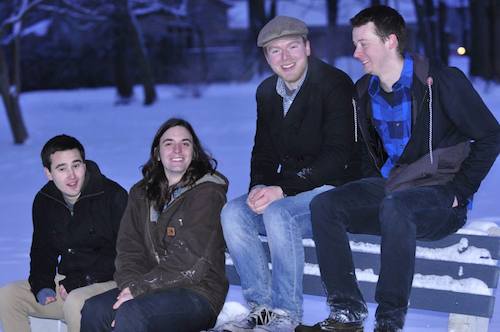 Band Name: The Mackinaws
Band Members: Michael Tokarchuk (vocals, guitar), Greg Cain (vocals, guitar), Adam Tokarchuk  (vocals, bass), and Bryce Green (drums).
Years Active: 2
City of Origin: Hamilton, ON.
Who are you and what do you do?
"I'm Greg and I'm a guitarist and vocalist for The Mackinaws."
In 100 words or less, tell us how your band has gotten to this point.
"We've all been friends for a long time, and near the end of high school Bryce started playing drums. We began getting together to drink beers and just jam some of our favourite cover tunes. After doing that for a while, we started to get the urge to write original tunes. After we had some down, we started playing live in July 2012. We did that for a little over a year, then headed into the Porcelain Records studio in Hamilton to record the original songs we'd completed up until that point. We're now playing shows in support of that album."
What is your latest release and how would you best describe it to someone who hasn't heard your band?
"We released our debut, Self-Titled album in February 2014, which we recorded with the help of Grammy Award-winning producer Steve Bigas. The album combines our love of classic rock, blues, folk and country music. I think it's refreshing to hear such a variety of genres on a debut album."
When making an album, which aspect of the process do you put the most time into and why?
"I think we put the most time into rehearsing and song writing. If a person in the band sings a song, then most of the time they came up with the concept for it. But for us, song writing is somewhat of a solitary process. We'll come up with ideas for songs individually, then come together as a band and mould it into something more complete and interesting. We all have full-time jobs or are in school full-time, so we try our best to get a jam in once a week. Most of the jams are just to tighten up our sets before our shows, but when we're working on new original material we jam more often."
What is the best part about your band and why?
"I think the best part about our band is that because we have three different singers, we're able to play a wide variety of musical styles. It keeps things interesting when you don't have to listen to the same singer all the time. As a band, we also are interested in improvisation and guitar solos. This is something rare that you don't see as much nowadays. So we're proud to still be playing in a style that was popularized in the '60s/'70s, all the while still bringing our own unique qualities to the mix."
What makes your band unique from the rest?
"Once again, I think that having three different singers is a way we are able to be unique from other bands. We're big fans of The Band, The Beatles and Kiss, who all had multiple vocalists in the band. We like the unique qualities that different people can bring to a song."
How does your band survive the challenges of touring/gigging?
"We're all close friends, so we like spending time together. If we weren't playing shows, we'd be hanging out anyways. We take our music seriously, but we also like to have a good time. We're focused on our original music, but we also play 3+ hour cover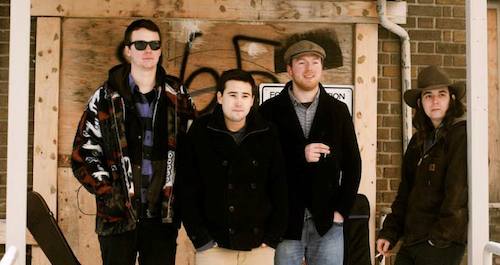 shows at bars around Hamilton, Burlington and Toronto. This is a way for us to make extra money to buy equipment, pay for recording, and for travel expenses."
Would you rather be critically-acclaimed; rich and famous; or an under-the-radar band with a dedicated fan base?
"I think most bands want to be rich and famous. It would be a great thing to have the freedom to just play music without the worries of not being able to pay bills or raise a family. But, I think we'd be fine with any of the above. We play music because it's fun for us and we've always loved it. It would be nice to have some recognition for the hard work we've put into our songs."
If you'd have to compare your band to another one out there, living or dead, who would it be and why?
"Collectively, we love The Band the most. But we also take influences from Led Zeppelin, Lynyrd Skynyrd, The Rolling Stones, The Beatles, Blink-182, CCR, etc."
Which band/musician would you like to share many drinks with? What would you talk about?
"I can't speak for the whole band, but personally I'd like to sit down with Jimmy Page from Led Zeppelin. Since the age of 12, I've been a die-hard Led Zeppelin fan. If I ever had the chance to sit down with him, I'd ask him about some stories from the '70s. It'd definitely be a dream come true to meet him."
Please be sure to follow us on Twitter @riffyou and at Facebook.com/riffyou.