On The Beat Records Store For Sale on eBay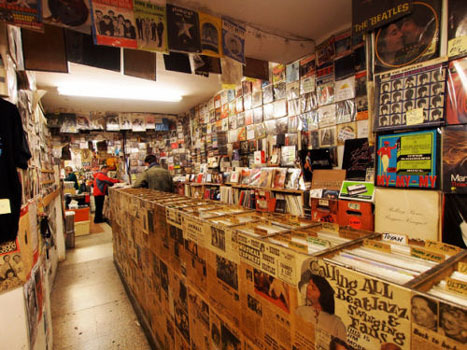 eBay is a great place for music fanatics to pad their collections, and Tim Derbyshire seems to be hoping that one ultimate audio fiend or collector has £300,000 to purchase his On The Beat Records store in central London, UK.
The store, which is packed with a myriad of vinyl, CDs, cassettes, old school magazines and a wide assortment of music memorabilia, has officially been put on the block via eBay. The ad encourages interested parties to "Live your dream and enter a rock'n'roll lifestyle," and to pursue a "unique and once-in-a-lifetime opportunity to live the High Fidelity (see the Nick Hornby book and John Cusack film) life!"
In the ambitious ad, Derbyshire explains:  "I've given it my heart and soul for all these years but it's time for me to step down and let another passionate music lover take over.
"If you're at the stage in your life when you don't have to worry about making money but can live the bohemian life, meet interesting people every day and the occasional pop or rock star, here's your chance to take over the oldest record shop in the centre of swinging London. [It's] a vinyl treasure trove with a pulsing, groovin' history steeped in its very walls. You can make history and take it over!"
Derbyshire goes on to say that if he is unable to sell On The Beat Records, it will be closed down for good.
As of this afternoon, 195 folks are watching the eBay listing, with 10 enquiries being made. Thus far, it is unclear whether or not On The Beat Records will live on if Derbyshire doesn't get his exact asking price of £300,000.
Bidding comes to a close on November 25.
The shop was first established in 1979 and has been stationed on Hanway Street the whole time.