Monster Truck Gets a Mother Truckin' Documentary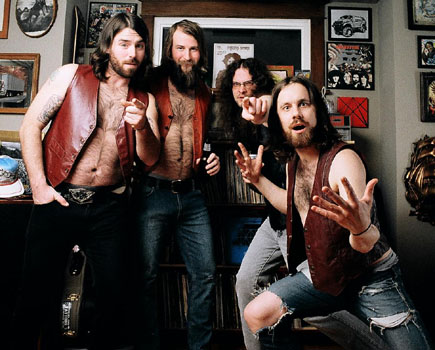 Heavy Hamilton, Ontario rockers Monster Truck are letting fans get just a little bit closer to their life as a touring band through an 8-minute mini-documentary. In it, the guys talk work ethic, fan support, the weirdness of going home and the hope of eventually getting to that tour bus level of rock acts.
Emerging in 2009, these hairy, sweaty throwback fellas – Jon Harvey (bass, lead vocals), Jeremy Widerman (guitar, vocals), Brandon Bliss (organ, vocals) and Steve Kiely (drums, vocals) – have accomplished much in their four years together. Following the release of the Monster Truck EP in 2010, the band really broke into the minds of the masses with 2011's The Brown EP.
Boasting tracks equally comfortable for classic rock fans and a younger generation that likes it loud and chunky – "Righteous Smoke" and "Seven Seas Blues" – The Brown EP helped pave the way for Monster Truck's 2013 JUNO Award win for Breakthrough Group of the Year.
On the road, the guys have shared stages with the likes of Deep Purple, Alice Cooper, Kid Rock, Alice in Chains, Guns N' Roses, and Slash, just to name a few.
Monster Truck's latest album, Furiosity, was released in May by Dine Alone Records and features the equally heavy and hooky single "Sweet Mountain River". The guys are currently rocking their way through Europe, but will be heading back to Canada for a cross-country tour that'll commence at the Commodore Ballroom in BC on December 4, and close out at home on December 22 at Hamilton Place.
Without any further ado, check out the Monster Truck documentary below.