Arcade Fire to Top Billboard Chart this Week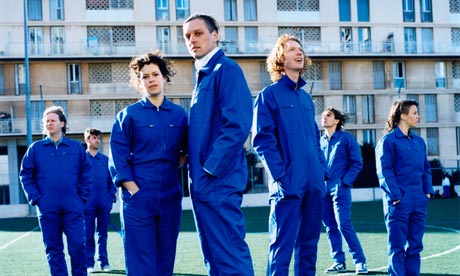 Billboard has suggested that Montreal-based Arcade Fire is headed toward its second #1 album on the Billboard 200 chart. Sources believe that the group's fourth full-length, Reflektor, will sell nearly 135,000 copies in the U.S. for the week ended Sunday, November 3.
The publication thinks that Reflektor will top last week's #1 album, PRISM by Katy Perry. That album sold 286,000 units during its first week stateside, but Billboard predicts a significant drop off.
After Perry's album reached #1, the previous top album in the country, Pearl Jam's Lightning Bolt, saw its sales slide 72% in its second week, reports Billboard. Same can be said for Miley Cyrus' Bangerz, which saw second week sales fall by 73% when Lightning Bolt took over the chart. Thus, if PRISM continues the trend and declines by at least 70%, that'll see Perry's sales decrease to 85,000 for the week.
Although Arcade Fire is still with indie label Merge Records, the band is receiving some heavy-duty assistance this time around from bigger partners. Universal Music Group is now distributing the album, while Capitol Records is helping the band get its tracks to radio.
If all holds true and Reflektor nabs the top spot, it will be Arcade Fire's second consecutive Billboard #1 album. In 2010, the group's The Suburbs sold 156,000 copies its first week on the shelves.
All will be found out when the charts are released on Wednesday, November 6.