Riff Review: Arcade Fire's "Reflektor" (Sonovox/Merge Records)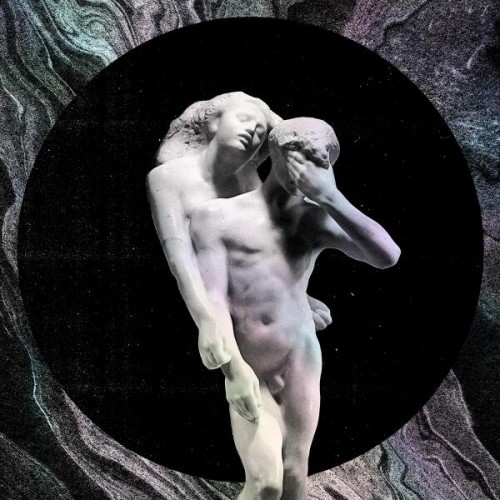 On Saturday, October 11, 2003 I was dragged against my will to Toronto's Horseshoe Tavern. The headliner was of zero interest to me, as now was the girl who I promised to go with. The evening before, an enormous revelation took place: she just wasn't that into me. The following afternoon, hours ahead of the show, I did all I could to get out of going to it, but felt enough peer pressure from others in the group to get over myself and get in the car.
While in full-swing brood mode, something magical was preparing to happen.
Through the muttering noises a club crowd makes between bands, my eyes shifted to the stage as a pack of sheik, yet misfit-looking individuals got ready to go. The alarmingly tall fellow slow danced with his pint-sized, curly-haired female partner to the music over the P.A., as the band continued to get their gear in order. When show time hit, the sizeable (even then!) collective immediately thrust itself into the eyeballs and imaginations of those huddled on the tiny floor in front of them.
There was at least one accordion; one or two technical issues; an impressive level of indie ambitiousness; shouting-away-from-the-mic vocal leaps; and band members slamming drum sticks against strapped on motorcycle helmets, as if saying that past percussion tools were so passé. The crowd stopped and started at the same time, flabbergasted by what was happening before them. The energy was inspiring; the sound was fresh and on the verge of becoming epic; and the band needed rides back home to Montreal for Thanksgiving weekend.
As they sought rides, I bought their EP at the side of the stage and told anyone who would listen for the coming months, "I can't wait until the world hears this band."
That was Arcade Fire, and here we are 10 years and a Best Album Grammy later with Reflektor, a project that makes the band's ambition shown in Toronto on that fateful night appear as child's play…if not well conceived, perfectly executed child's play.
While many essays have already been printed about Reflektor, what truly needs to be viewed and appreciated here is Arcade Fire's willingness to toss caution to the tornado and get its groove on. If 2010's The Surburbs can be viewed as something capable of touching Neil Young devotees, then Reflektor is for those who don't believe disco is entirely dead and that world music shouldn't just sit in the back corners of music shops. Fans of The Clash's dub-heavy neck-twister Sandinista! should also take notice.
At 75 minutes, stamina is needed for this double album, as it doesn't fear tugging listeners in a myriad of directions throughout the 13-song adventure. "We Exist" kicks in with a "Billie Jean" feeling bass line, while "Flashbulb Eyes" appears to be a mini-anthem for those, who like Arcade Fire, don't need to necessarily work for the spotlight anymore, but instead have to learn how to keep their souls while the lights shine. "Here Comes the Night Time" features wonderful steel drum use, an instrument that many "rock" bands would likely have around as an object to store their beer in while on stage.
When "Normal Person" is led into with frontman Win Butler asking, then answering "Do you like rock n' roll music? Because I don't know anymore," it becomes pretty clear that the band isn't content with ruling that genre's roost, and instead wants to re-write its rulebook. Before Arcade Fire moves along to do so, this track bursts furiously with scathing guitars and enough snotiness to make the average punk rocker offer an approving stink face.
As Reflektor progresses even further onto the second side, experimentation remains, while tempos continue to pounce around like a heart attack. "You Already Know," "Joan of Arc," "Awful Sound (Oh Eurydice)" and "It's Never Over (Hey Orpheus)" prove to be the highlights as the album takes its long, winding journey home.
Like other Arcade Fire albums, Reflektor isn't a love at first listen deal. The Suburbs, at least for me, was the same way, but proved to become a staple after devoting a fair chunk of time to it. Like a bottle of great wine, Reflektor needs to breathe a bit to be fully appreciated. So please, put in the time, because this brash bunch of Montrealers have taken a sharp left to the dance club, while not forgetting how to provide splendid, thought-provoking stories along the way.
This album is: Riff Respected