Fan Review: Bon Jovi Rocks the ACC in Toronto

After 30 years of sold out shows, number one hits and 13 studio albums, Bon Jovi proves that they still know how to rock. On Friday November 1, 2013, Bon Jovi played a sold out show at the Air Canada Centre in Toronto as part of their Because We Can tour to a very enthusiastic crowd.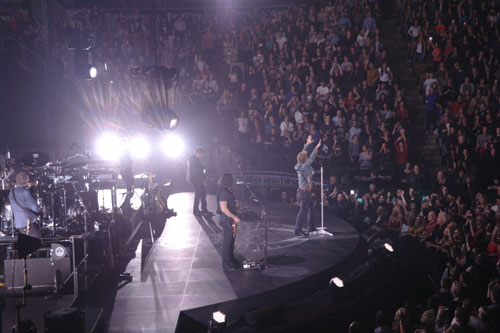 This was one of two special shows that marked the band's induction into the Air Canada Centre's hall of fame. They are the first band inducted into this hall of fame, with a record-breaking 17 shows at this arena.
Even with lead guitarist and back up vocalist, Richie Sambora absent, Jon Bon Jovi (vocals, guitar), Tico Torres (drums) and David Bryan (keyboards) were able to give the crowd a memorable show, playing unforgettable classics like "Livin' on a Prayer" and "Wanted Dead or Alive," where Jon asked everyone to take out cell phones and lighters to light up the arena. The band also performed new and impressive songs such as "That's What the Water Made Me" from the 2013 album What About Now.
The band did an excellent job of keeping the crowd pumped up and excited by making comments like, "Maybe they're getting tired on me", forcing the crowd to scream even louder or, "I may not be as pretty as Justin Bieber or dance as well as Justin Timberlake, but we've been around longer than both of them combined." But keeping the audience's attention was no problem for Jon Bon Jovi, who is still looking like a rock star at the age of 51. The true awe-inspiring moment, though, came when the band performed a mash-up of the songs including "Taking Care of Business" by BTO (Bachman-Turner Overdrive), "Jumping Jack Flash" by the Rolling Stones and their own "Sleep When I'm Dead." What made this moment even more special was when Jon stepped back from his microphone and keyboardist David Bryan took over the vocals for a few minutes. This allowed the band to really show their wide range of musical talent.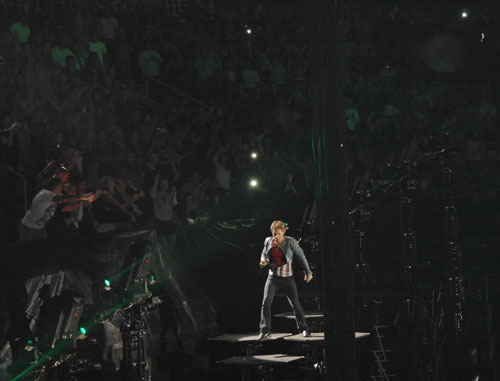 Another moment during the show that truly stood out was when the band performed "Diamond Ring" off their 1995 album These Days. Each band member, including Phil X (Sambora's temporary replacement), came together on a walkway connected to the main stage, always making sure to stop and high five a few fans, to do an acoustic version of the song that took every audience member's breath away. Although the stage setup wasn't as eccentric as the last time they were in Toronto due to some of it being shipped over to Australia for their tour there, Bon Jovi was able to show that it was not necessary in order for them to put on an amazing show.
Despite Sambora's absence, Phil X, a Canadian musician who has played with Tommy Lee and Alice Cooper, was able to pull off a great show while trying to manage Richie's famous talk box solo's during "Livin' on a Prayer" and "It's My Life".
I actually had the opportunity of going backstage and talking with Phil, and his guitar technician, who took me on stage where I was able to sit at Tico's drum kit and hold Jon's microphone. I also went under the stage where Jon's change room during the show is.
Overall, Bon Jovi was able to put on an amazing and impressive show that I absolutely loved. This was my fifth Bon Jovi concert and I can definitely say that it will not be my last. I cannot wait until their next Toronto show!
Review and Photos by: Tanja Saric
Seen a show or heard an album/song you want to tell the world about? If so, RiffYou wants to hear from you!
Click here for more information, or submit your review via the Contact Form on the right.