Imprisoned Pussy Riot Member Feared Missing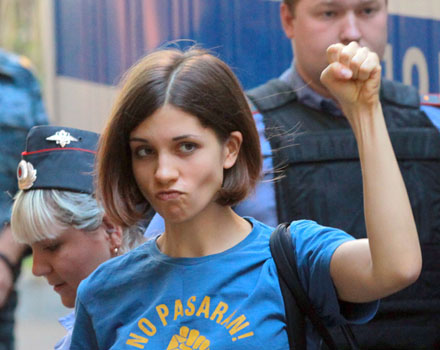 According to reports by BuzzFeed and NME, imprisoned Pussy Riot band member Nadya Tolokonnikova has gone missing after being moved from a prison in the Russian republic of Mordovia on October 21. Her family claims to not know of her whereabouts, with her father quoted as saying "There's no proof she's alive. We don't know the state of her health. Is she sick? Has she been beaten?"
The 23-year-old Tolokonnikova's move occurred after she protested numerous times against questionable prison conditions. She engaged in a hunger strike and penned a letter stating that the prison had "slave-like" working conditions.
A number of protests were held outside of the Pussy Riot member's prison, which leads her family to believe that she's been transferred "to a big city to hide her," and that officials must've gotten sick of the protests. Her husband, Petya Verzilov, takes it one step further by stating that the Russian authorities "want to cut her off from the outside world."
A witness claims to have seen Tolokonnikova as the train carrying her pulled into the city of Chelyabinsk, in the Ural Mountains. This was on October 24, and the source says that she was kept there overnight.
Tolokonnikova's family adds that prison authorities were supposed to inform them of her location within 10 days of transport. Since we're around that number now, there's still a chance that details of her location have just merely not been shared as of yet.
Tolokonnikova and fellow Pussy Riot band member Maria Alyokhina are supposed to be released from custody after serving a two-year sentence levied upon them for protesting against Russian President Vladimir Putin in a Moscow church.
A number of iconic musicians have come out in defence of Pussy Riot, including Paul McCartney and Madonna. At the time of the two-year sentence being handed down, many believed that the girls were being made an example of by the Russian Government.