Katy Perry's "PRISM" Roars its Way to #1 in Canada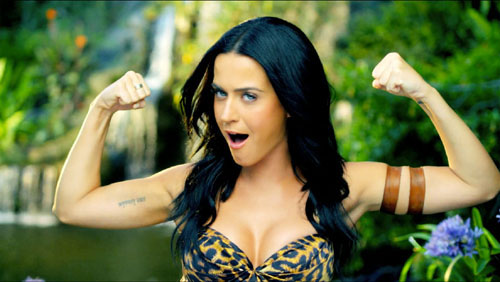 Katy Perry is not just shooting videos with elephants: she's also continuing her reign on the album sales charts, as her latest offering, PRISM, debuted at #1 in Canada on the Nielsen SoundScan Top Album Chart. Released on October 22, the easy-on-the-eyes hitmaker sold 31,000 copies of her fourth album during its first week on the shelves.
On iTunes, PRISM has already hit the #1 spot in 90 markets throughout the world.
What's more, the massive first single "Roar" isn't monkeying around either, as it has been certified 4-times platinum in Canada already. Internationally, the single has been scooped up more than five million times.
Perry is three years removed from the massive Teenage Dream album, which spawned the hits "California Gurls," "Teenage Dream," Firework," "E.T.," and "Last Friday Night (T.G.I.F.)." All of these tracks reached number #1 on the Billboard Hot 100 chart, making Perry only the second artist to have five #1's come from a single album.
Who was the other? Someone by the name of Michael Jackson. He pulled off this feat with his 1987 album, Bad.