CMW 2014 Q&A: The 1975 and Their Youthful Uprising

When approaching Toronto's Kool Haus a handful of hours before show time, is was evident by the lineup that surrounded three-quarters of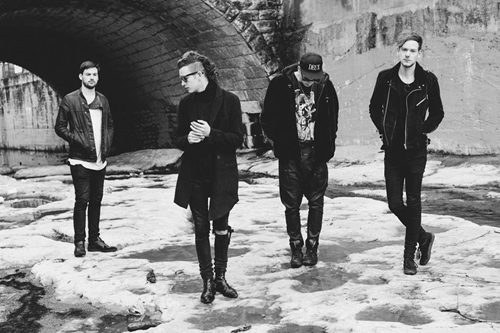 the building that the UK's latest hot to trot collective, The 1975, have captured the hearts of the kids from the north.
Having a 10-year history already behind them, this alt-rock quartet – Matthew Healy (vocals, guitar), Adam Hann (guitar), George Daniel (drums), and Ross MacDonald (bass) – didn't truly pounce upon the masses until their Self-Titled debut full-length album emerged in the autumn of 2013 and rose to the number one spot on the UK album chart.
Yes, the EPs ahead of this album helped build The 1975's base back home, but the album in which they're touring behind them now is helping secure their global status. By no means is the band on top of the world yet, but they sure are working at it.
After surpassing the endless line of fans, Riffyou.com had the opportunity to sit down backstage with Healy over a smoke and a Coke, to talk about his band's surge. With a hairstyle best described as a cross between what Skrillex and Robert Smith (The Cure) going on, Healy is thoughtful 20-something with high-hopes, yet an incredibly balanced perspective.
Here is our conversation with him:
RY: The making of your last album is a ways behind you now, so I was wondering how you feel about it at this point.
Matthew: "It's weird, you know, because obviously it defines me – especially with it becoming so big and playing it live every night, and that's what everyone is listening to. It's odd to feel the actual connection to the songs [because] they shift from the personal excitement of writing them and the things you invest into them. It's different [now]. We played 300 shows last year. But there's still something there. There's a potency to them. I still enjoy playing them.
"I'm not saying that's a mystery and there's a defined purity to everything – I'm sure that after another 300 shows I'll be bored of the album. But at the moment, it's funny, because it's now like an in-joke that everyone is starting to get. This album doesn't come from any pretense or ego. Even with the way I dress…I'm very much the masonic figure on stage. The way I can be viewed as having an ego isn't because of the album – it's very humble and introspective. So, no, I don't know how I feel about [the album]."
RY: You must've been shell-shocked with the success of this album, though. You had four EPs prior to this, and then this album goes to the #1 spot in the UK right away.
Matthew: "By that point – in our view – we'd already outdone ourselves massively. The idea of getting a song on the radio in 2011 was an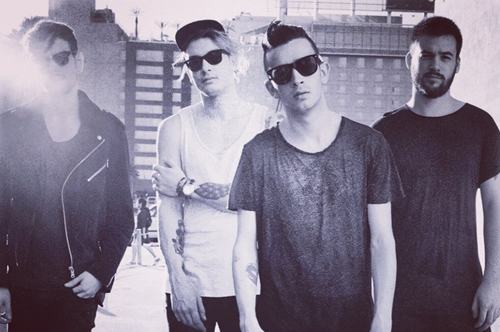 amazing prospect for us. We're the highest – if not one of the highest – played guitar bands on British radio at the moment…that's happened in a year and a half. I don't take that for granted, but it's something that I accept now. My reality has shifted so massively.
"By the time the album went number one, we thought, 'well, of course it's gone to number one. Of course we got to support the [Rolling] Stones,' because it all felt like a dream. That moment where it went number one, I then felt like I was looking for something else. I was like, 'is this going to make me happy?' It makes me happy now, but at the time it didn't. I've realized now that I can't reach for statistical things."
RY: With that said, is reaching number one with an album something that you now constantly want? Or is there a fear about peaking too early?
Matthew: "It's an obvious fear, I'd imagine, for everybody. But, I have a genuine belief in the way we do things and I think the one thing we haven't lost is our conviction in the way that we do things. That's what will carry us through to the next album. The reason why I don't worry about it too much is because there are very blurred lines between the idea of the first album and the second album. I'm always onto the next thing. By the time the first album came out, I was already thinking and working on the second.
"By the time you would usually think it's time to start worrying about the second album…I was already comfortably inside of it. I'm more excited about it. I mean, I don't care. I do, but I care about people, and if they really care about our music, we have a creative responsibility for it to be as good as the last album. But, I judge what's good about it. I reserve the right to be the judge of when we've reached our potential. So, we'll see what happens. But, the next album will be good, and it will be number one in the UK."
RY: From the outside looking in, the UK music scene seems like a super competitive place. Would that be a fair perception?
Matthew: "It is. But, it's not created by the bands…it's created by the niche. Tierney is the removal of nuance, you know what I mean? In the music industry you have loads of people who aren't particularly creative controlling the lives and demands of those who are, and that creates a real convoluted world.
"[It's like] if you're from this part of London or you're from a certain financial background…bands are kind of indoctrinated with these ideas and they grow into bands who are really insular. But why? Who cares?! We're all making music. We're all doing this for fun, in the pursuit of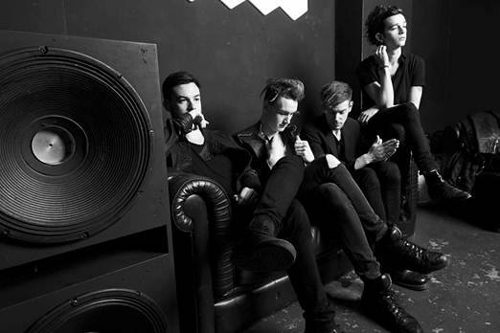 joy. So, where does the negativity come from? Where does it spawn from? I don't think it comes from the bands."
RY: Earlier on, you mentioned the next album. Could you touch on the direction that you see it taking?
Matthew: "I can't say anything. Our first album wasn't conceptual, but the idea that it was inspired by a cinematic time of '80s movies and pop culture. That was kind of the concept, but the concept was dictated by the material, and it's very important [for the next album] that it stays like that.
"I almost get excited when I start thinking conceptually about records, and I have to stop myself because we have to let songs evolve naturally; get inspired naturally; and then let the material dictate the concept instead of the other way around. If you have concepts dictate material, it all becomes wishy-washy and you start writing in a certain style for the sake of it."
RY: Perhaps in a more general sense then, what do you want from the next album?
Matthew: "The first album was like a scrapbook of ideas and conversations. It became the soundtrack to my adolescence and our formative years. That was a very honest depiction of what happened – and idealized – like all memories should be – but it was an honest depiction of what happened. I want this next record to be as true to itself as the first one was. How we engage with that, and what the story will actually be, won't be finished until the album's actually finished. It's going to big, because our lives have changed so dramatically."
RY: Which you're okay with, I assume?
Matthew: "I'm…managing."
-Adam Grant
Please be sure to follow us on Twitter @riffyou and at Facebook.com/riffyou.