CMW 2014: Indie Awards Nominees Speak Up

The 14th Annual Independent Music Awards will go down at the Kool Haus in Toronto this evening, with many friends of Riffyou.com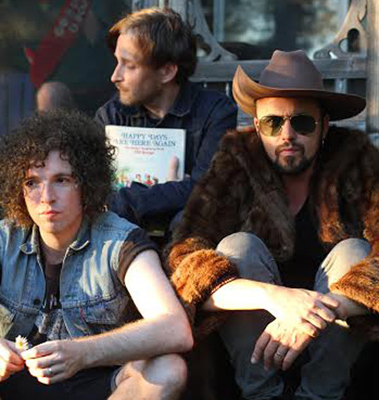 nominated for various awards. In light of that, we felt it would be appropriate to share with you some of the words they shared with us.
Dallas Green of City and Colour:
"I like to think in my head that the reason people feel so strongly connected to my lyrics is because I spend so much frigging time trying to make them the best that they can be! I hope that if I was to just scribble a bunch of words on a piece of paper and put them to a nice melody, people would call me out on it. When I'm writing songs that are very personal, about maybe myself or about people in my life or family members…I feel like I owe them the respect to make sure that every line matters just as much as the one before."
Peter Dreimanis of July Talk:
"When I met Leah (co-frontperson of July Talk), that just gave me so much more confidence. [It was great] to work with someone else who provides a counterpunch when I feel like my voice is a little bit one-sided," relays Dreimanis. "She has allowed me to push myself so far down that road…down that one-way street. As soon as she comes in, she allows a [song's] perspective to shift. All-of-a-sudden, what I'm doing is not cliché, or closed-minded. And you're able to completely change the direction of a song in one second."
Hawksley Workman of Mounties:
"I'm going to gush in a way that's embarrassing, because I'm such a big fan of [our] record. I'm a big fan of the music, but I'm also a big fan of Ryan Dahle and Steve Bays as people. It's a funny thing for me, because they've become two of my best friends very, very quickly. When we jam, it's not like the Sunday afternoon, open stage at the blues bar kind of jam. It's three guys whose ears' are tuned to hear and find a hook; extrapolate; and then enhance. But, all of that is happening with the speed of instinct."
Jason "Human Kebab" Parsons of USS:
"I've come to learn that you're really only as good as your next song," explains Parsons. "You try to keep things coming from a natural, organic place, but at the same time, you're questioning the material in your repertoire and what you have at your disposal. Nowadays, with the music industry re-shaping as we speak, you have to still move with the times and have your own integrity intact."
Mitch DeRosier of Born Ruffians:
"We've been in this band since high school and have never made music for anybody else. We always made what we liked and felt right to us. For whatever reason, that's always seemed to connect to our fans…which is awesome. If you were to play the three albums we have out back-to-back-to-back, they all sound pretty different, but our fans seems to connect with them in strange ways. We feel like once we start writing for somebody else, we lose the point of what this is all about."
Simon Ward of The Strumbellas:
"Mumford & Sons set it off for everybody and really brought back this style [of music], then obviously The Lumineers. There are just a lot of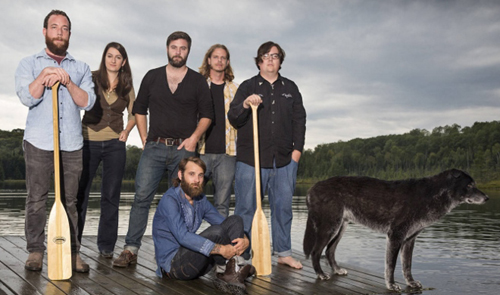 really good bands who are making this type of music right now. I don't know if it's necessarily the fact that this style of music was ready for a comeback…I think people who happen to be making it are doing a really good job at it. I'm sure this will happen again if some wicked people start making polka music really well. It just takes a few bands to get a style going."
Neu Mannas of Head of the Herd:
"We're definitely grateful. I mean, having a #1 song before a label was more than we could've dreamed of. Truthfully, when we wrote the songs we thought they were good stories and that people were going to react to them. So, the fact that we got this type of attention blows our mind and is something that we're thrilled about. Without a label, we had to be very confident with the songs to write the cheques to get all of the people that we wanted to get involved."
Jeremy Widerman of Monster Truck:
"We feel a lot of pressure to make sure that we're giving people their full money's worth. The last thing we would want is somebody walking away saying that it wasn't worth the ticket price. It's probably a worry only magnified by ourselves but we want to make sure we have a great [show]."
Stefan Babcok of PUP:
"We wanted to make a record that sounded like our live show and I think we accomplished that. We did most of it live off the floor. Our producer Dave Schiffman's (Weezer, Rage Against the Machine) motto was 'this record should sound like the best show you've ever played and nothing more.' What we wanted to translate most was the vibe, the energy, and the sweat [of our performances]. We think that it's not a perfect record – there's no such thing as a perfect record – but it captures what we do live."
Chris Cresswell of The Flatliners:
"It's great to have the opportunity to go to all of these faraway places. It's more fun than sitting around and hoping that you sell records – that doesn't happen very often anymore. For our kind of music, you have to get out and show people your face and let people know that you're alive."
Finny McConnell of The Mahones:
"Here's a little lesson to the musicians out there. First of all, there are a couple important things that you have to do if you want people to know who you are. If you want to get your name out there, get your music out there, get well known, you first of all have to be respected by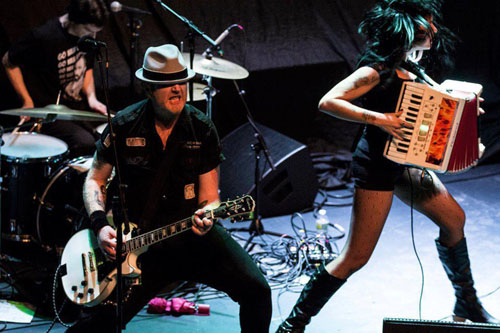 people in the industry. You can't be a fucking dickhead.It's important to be nice to people; be honest; and do a good job – then you'll get respect from other people in the business. When you have respect and do a good job, people want to work with you. It's very important to be a decent person, because people will remember you – they'll meet you on the way up and they'll meet you on the way back down."
Liam Cormier of Cancer Bats:
"It's definitely crazy to be at this point and still feel like it makes sense to do this. It's not like we've been in a band for eight years and wondering if anyone cares. The loose idea of the band is that we are doing this for fun. Regardless of it actually being our jobs, we still need to enjoy what we're doing and have fun with it. That's our number one priority and [we don't think] 'we need to be this big or make x amount of money.' At this point, if we're not having fun, then we can easily go and get jobs that'll make us more money than being in this band."
Danko Jones:
"When we started our band, we did it because we wanted to be around a certain scene that was around in the '90s – the garage rock scene – which eventually spawned mainstream staples like The White Stripes and The Hives. Underneath those bands, is an ocean of garage rock bands that most people don't know, and that was the scene we were a part of."
-Adam Grant
Please be sure to follow us on Twitter @riffyou and at Facebook.com/riffyou.