CMW Artist Profile: Toronto Hard Rockers, Diemonds

Throughout Canadian Music Week, Riffyou.com will be introducing you to some of this year's amazing lineup. Today, here's a look at versatile Toronto hard rockers, Diemonds. Catch them Friday, May 8 at The Hideout (12am.)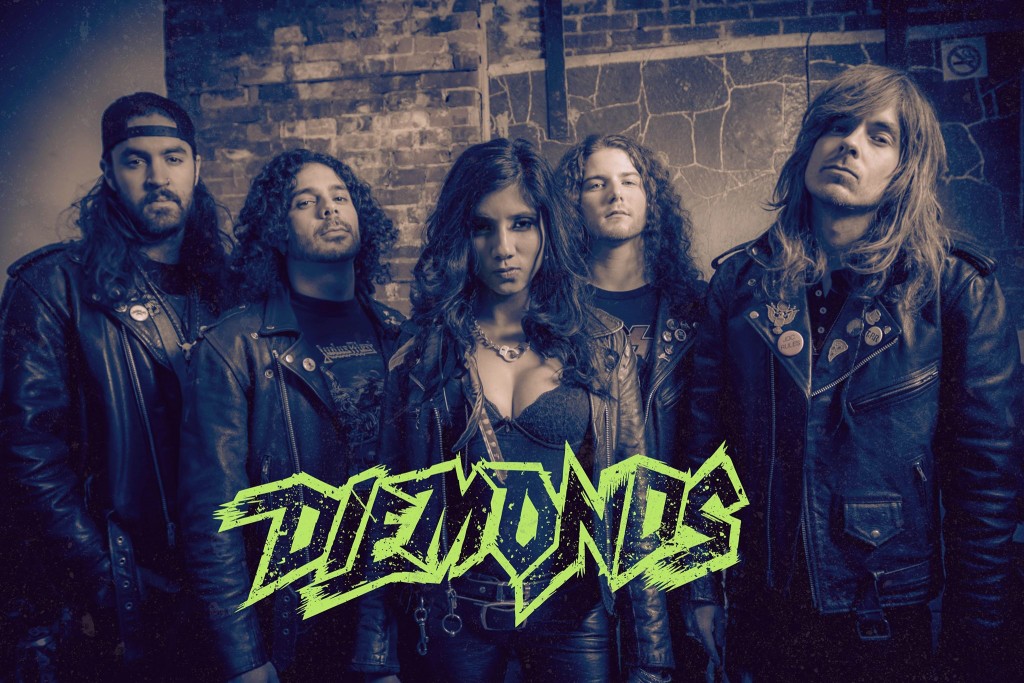 Band Name: Diemonds
Band Members: Priya Panda (vocals), C.C. Diemond (guitar), Daniel Dekay (guitar), Adam Zlotnik (bass), and Aiden Tranquada (drums).
Years Active: 7
City of Origin: Toronto, ON.
Latest Release: Never Wanna Die, out August 14.
Who are you and what do you do?
"I'm Priya, I sing and drive the tour van way too much."
In 20 words or less, how would you describe your band?
"A hard rockin' freight train barreling down the tracks at a million miles an hour to a town near you."
Why should people care about your band?
"Because you will end up being the person with an awesome story like, 'I saw Metallica in a tiny club with 50 people eight months before they broke!'"
If someone comes to your show at CMW, what could they expect to see?
"Hot licks, high kicks and it's gonna be like a tornado hit you. Because we never stop moving around, the crowd usually gets the picture and starts moving around and before you know it, it's hot, sweaty, and crazy. It's good times, I live for it."
How vital is CMW to a band in your position?
"It's so awesome for us. We get to play a jam-packed, intimate venue and feed off of the crowd's energy! It's really cool because tons of bands we wanna see and meet and watch play are in town, so it's a good time to be in Toronto, for sure."
What do you hope to achieve at CMW?
"We hope to see lots of faces in the crowd, both new and familiar! It's been a while since we played in Toronto and we want to party with each and every single one of you! And of course, play a kick ass show that whets people's appetites about our new record!"
Lots of CMW shows will be attended by music industry professionals – how does knowing that impact the way you approach these performances?
"Honestly, we play the same whether there's one person or a 1,000 people in the room. A lot of bands say that, but with us, I really mean it. Because trust me, we've had the opportunity to play to small supportive crowds, and huge festival crowds and everything in between – we always leave everything we got on the stage. If there's industry people in the crowd, the more the merrier. They'll get 1,000% of us, just like everyone from the crowd, to the bar staff, to the other bands will. It's what we do!"
How much sleep do you anticipate having during CMW?
"Between our showcases, 4am last call, all the bands we want to see, and all our friends in town for the week, I'm going to guesstimate zero!"
During your stay, where will you and your band be sleeping, showering, or taking groupies?
"We're from Toronto, so it's rare for us to play crazy shows and get to crash in our own beds, but I'm sure all of our places will be full, having bands from out of town crash with us. It's the least we can do for all of the times people have put us up when we're on the road."
At CMW we will mostly consume…
"At CMW we will mostly consume music, which is self explanatory, but Jager and BBQ are cool too."
CMW for us will be a failure if…
"The power goes out at our gig and we can't play."
CMW for us will be a success if…
"You come watch us for your first time, or your 10th time. We wanna see you there!"
Please be sure to follow us on Twitter @riffyou and at Facebook.com/riffyou.