Fan Review: Diemonds Back to Raging on Home Turf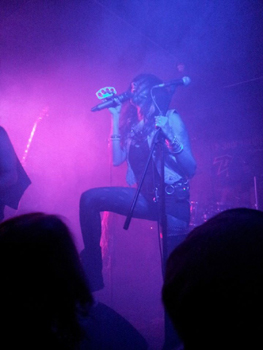 After a monstrous month-long North American tour that went from coast to coast in Canada and as far as Chicago, Las Vegas and L.A., Diemonds were more than happy to make the last stop of the aptly named 'SkeleTour'  in none other than a place they all call home – Toronto.
The winds were howling and the mercury may have dropped much further below zero than any Torontonian was ready for on Saturday, November 23, but that didn't stop Diemonds from bringing the heat onstage. Headlining to a packed and rowdy house at The Garrison, the homecoming show also featured the talented likes of Liam Mackenzie, Midnight Malice and Public Animal.
The official setlist for Saturday night featured 11 songs. Diemonds didn't disappoint by performing a solid number of crowd-pleasing favourites (sing-alongs are always encouraged if you know the words), most of which can be found on their 2012 full-length album The Bad Pack. The show began with an untitled new song, but it wasn't long before hits like "Loud N' Nasty," "Lil Miss," "Get the Fuck Outta Here," and "Trick or Treat" were blasting from the monitors. An honourable mention must go to the bands' thoroughly raging cover of Motorhead's "Iron Fist," which drew a mean mosh pit and whopping applause from the crowd.
As one of the band's mottos goes, the homecoming show for Diemonds was a true display of "rock n' roll at its finest and filthiest." That's something you can expect to get from these guys at every gig. A full-on honest, classic metal package with no fake and all fun. Diemonds don't only show off some of the best '80s-inspired fashion sense out there (life is a runway right?), they match the look with outrageous musical skills and a high-energy stage presence that can wake up the dead.
What I think I enjoy most about this band (I've seen them live four times now) is that it doesn't matter what you wear, what kind of music you listen to, what kind of beer you drink or if you enjoy smoking the reefer or not (though, some bonus points with these guys if you do).  Listening to Diemonds and seeing them live on stage takes you in to their world and makes you feel like you belong, even if you think you don't. That probably explains why some Diemonds fans have literally traveled across the country to see them play.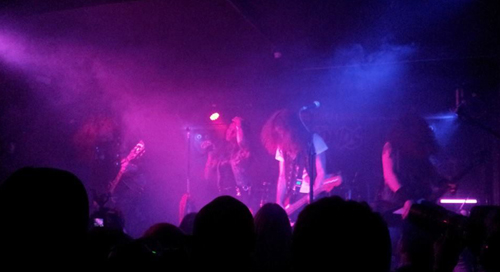 Diemonds are currently backed by Underground Operations, an independent punk rock record label based in Toronto, ON. But, just as rocks that stay beneath the surface for many years transform into shiny jewels, so could go this band's next chapter. Rumour has it that both the group and their label are eyeing bigger stages to thrash on. Mainstreaming C.C., Tommy, Priya, Daniel and Aiden for the masses? Now that's badass.
If reading this review has piqued your curiosity about checking out Diemonds, then my work here is done. Just one piece of advice though, if you are planning to see them live: don't forget your earplugs.
Review and photos by: Jackie Vandinther