Eminem Dominating the Charts, First Week Sales to be Huge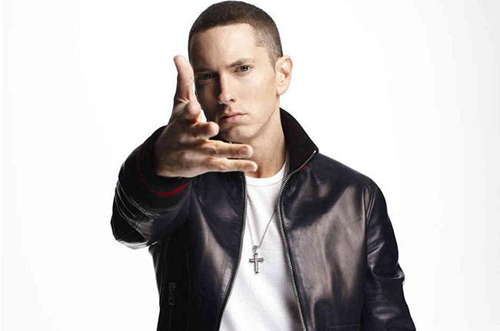 This week Eminem dropped The Marshall Mathers LP 2 album and it appears that one of this generation's most poignant rappers is set to rule the charts for the foreseeable future.
According to Billboard, the real Slim Shady's track "The Monster" (which features Rihanna) has debuted at #1 on the Digital Songs chart, having been downloaded 373,000 times in the past week. This is the second largest sales week for an Eminem single, trailing only "Not Afraid," which sold 379,000 copies when it debuted in 2010.
This is Eminem's ninth #1 track on the Digital Songs chart, equaling Katy Perry for the second-most of all-time. Rihanna leads everyone with 13, including her "appearance on "The Monster."
Not to be stopped there, Eminem also has his "Survival" and "Rap God" tracks featured in the top 10 of the Digital Songs chart. During the past week, "Survival" has risen from the 34th spot on the chart to sixth, moving 140,000 copies (up 240% compared to last week). Meanwhile, "Rap God" dropped from eighth spot to ninth, with 131,000 copies sold (up 23% week over week).
On Billboard's Hot 100 chart, an astounding four Eminem tracks are slated within the top 20. "The Monster" sits the highest at spot three, followed by "Berzerk" (15), "Survival" (16) and "Rap God" (17).
Considering the ridiculously strong digital sales presence that The Marshall Mathers LP 2 has, not to mention tracks from this album making up a fifth of America's top 20 songs of the week, it's hard to imagine that Eminem will not top the U.S. albums sales chart once the week is complete. Yesterday it was revealed that Arcade Fire's Reflektor was the #1 album in the country with 140,000 copies sold, but industry sources tell Billboard to expect Eminem's latest album to sell between 700,000 and 750,000 copies in its first week.
If that holds true, The Marshall Mathers LP 2 will have the second largest first week sales totals this year, following only Justin Timberlake's The 20/20 Experience.