Every Time I Die to Live it Up in Canada this Fall

Buffalo, NY, metalcore collective Every Time I Die will be crossing the border into Canada come September, following the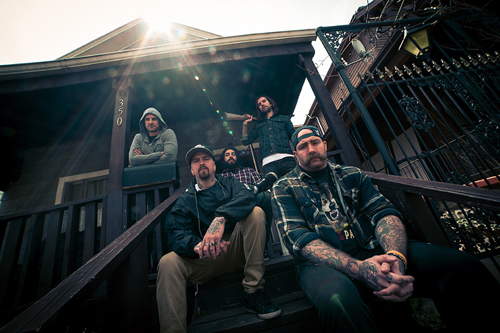 announcement of a 17-date tour.
The band – Keith Buckley (vocals), Andrew Williams (guitar), Jordan Buckley (guitar), Steve Micciche (bass), and Ryan Leger (drums) – just released their seventh thrashing effort, From Parts Unknown. Produced by Kurt Ballou of Converge, ETID recently discussed with Riffyou.com just how terrifying, but worthwhile of an experience it was to partner with one of their musical icons:
"We always wanted him to be the guy," said Buckley. "He's been in the running for everything we've done. But, he's always kind of scared us, to be quite honest. I feel like we were all very nervous about ever meeting him and/or have him judge our band, which is part of the job of producing a record. Before anything was written and we had to start thinking about the process, knowing that we would be working with him helped steer us in a certain direction. Our [new] songs are a little faster, and a little heavier than what'd you'd hear on our previous albums.
He continued: "There were definitely a lot of things I was afraid of before getting comfortable with him. I thought that maybe he didn't like our band and that he wouldn't give it his all. Or, he would hate everything we've done, or he would just let us run with it and not put his signature on the album. But all of that vanished – when you produce an album, you become part of the band. You have to trust him completely, and we were all willing to."
-Adam Grant
Tour Dates:
Sept. 12 – Halifax – Seahorse
Sept. 13 – Moncton – McSweeny's
Sept. 14 – Charlottetown –Fishbones
Sept. 15 – Rimouski – Coop Paradis
Sept. 16 – Trois Rivieres – Rock Café Le Stage
Sept. 17 – Quebec – Le Dagobert
Sept. 18 – Montreal – Club Soda
Sept. 19 – Cornwall – Vu Nightspot
Sept. 20 – Kitchener – KOI Music Fest
Sept. 22 – Thunder Bay – Crocks
Sept. 23 – Winnipeg – The Garrick
Sept. 24 – Saskatoon – Louis' Pub
Sept. 26 – Kelowna – Level Upstairs
Sept. 27 – Calgary – MacEwan Ballroom
Sept. 28 – Edmonton – Starlite Room
Sept. 29 – Regina – The Exchange
Oct. 2 – Sudbury – Townehouse
Please be sure to follow us on Twitter @riffyou and at Facebook.com/riffyou.