Q&A: Every Time I Die Get Scared Straight on New Album

When a band is a frontrunner of the scene in which they occupy, it's easy to get complacent. In the hardcore world, Every Time I Die (ETID)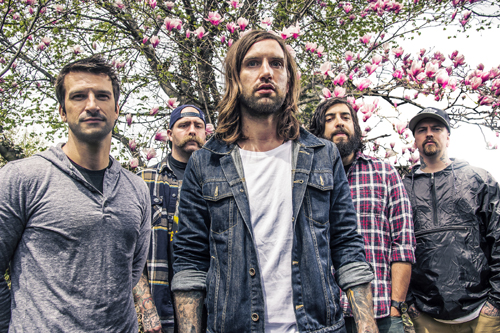 is very well regarded and after nearly 17 years together, could've very easily continued to rely on safe bets for the rest of their career.
But, they didn't.
After 2012's Ex Lives, ETID frontman Keith Buckley was restless, admittedly unsure of the band's future, or at least his future within it. Creatively, for him, something needed to change.
One thing Buckley and the band – Andrew Williams (guitar), Jordan Buckley (guitar), Steve Micciche (bass), and Ryan Leger (drums) – did in order to shake up the process was reach out to musical idol Kurt Ballou of Converge to produce what would become 2014's From Parts Unknown. He had an edge and approach that the guys were looking for.
In this interview with Riffyou.com, Buckley tells us about the fear and discomfort that came from working with Ballou, as well as why the frontman opted to radically adjust his writing approach as well.
RY: You had Kurt Ballou of Converge in the producer's chair for this album. What can you say about the approach he took with your material?
Keith: "I know his approach to recording records is very raw and [they end up sounding] under-produced. I felt that would be perfect because the songs we had were really raw and under-produced by us. The way that everything merged in the studio was perfect. There wasn't any butting of heads in terms of ideas, because we all had the same vision. I don't think we could've made this album with anybody else."
RY: In a broader sense, why was Kurt the right guy for this album?
Keith: "We always wanted him to be the guy," laughs. "He's been in the running for everything we've done. But, he's always kind of scared us, to be quite honest. I feel like we were all very nervous about ever meeting him and/or have him judge our band, which is part of the job of producing a record. Before anything was written and we had to start thinking about the process, knowing that we would be working with him helped steer us in a certain direction. Our [new] songs are a little faster, and a little heavier than what'd you'd hear on our previous albums."
RY: With having an admiration for him, were you at all concerned about coming into the studio too amped up?
Keith: "Yeah. There were definitely a lot of things I was afraid of before getting comfortable with him. I thought that maybe he didn't like our band and that he wouldn't give it his all. Or, he would hate everything we've done, or he would just let us run with it and not put his signature on the album. But all of that vanished – when you produce an album, you become part of the band. You have to trust him completely, and we were all willing to."
RY: Is it challenging to work with someone you admire?
Keith: "Yeah, it's the greatest challenge. I feel like it's a really rare thing to admire anybody in the scene anymore because after a while you just know everybody. But Kurt and Converge have always been on that pedestal for us…we've never toured with them and we didn't know them personally. He was still in this glass case as an idol of mine. I was very afraid because I didn't want that to get ruined…and it didn't. Kurt's a fucking genius."
RY: Artistically, what did he bring out of you guys that you didn't think you had?
Keith: "Discomfort. You go into a studio for your seventh album, and it's muscle memory by that point. Everything is usually dialed in. But when [we got to Kurt's studio]…he's such an intimidating person and the conditions of the studio were unlike anything we'd experienced before. We've been spoiled by a lavish studio where there's a huge hangout space, Internet, and Netflix. You get to Kurt's studio, and you're sitting inside of a garage and there are three dogs that won't share a couch with you…and it's freezing outside. It's all discomfort. But I think that's what got us to put out our best stuff."
RY: Would say that making a band uncomfortable like that is part of his method?
Keith: "I don't know if it's a pure, psychological thing that he sets out to do, but it definitely fucking works. He makes no apologies for how he functions and if you're uncomfortable, too fucking bad. I think that's a really cool thing, because so many producers just want a band to be in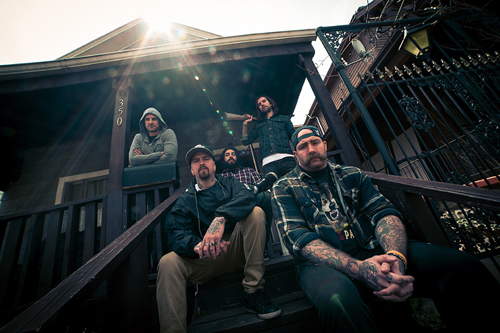 an area where they feel comfortable, can express themselves, and be who they are. That's not how we operate…we want someone to grab us by the neck and say 'you're going to fucking do this whether you're comfortable with it or not.'"
RY: I read that there's some brighter, emotional territory on this album. Did you feel that way as it was being put together?
Keith: "I understood that with this being our seventh album, we had to try something new…at least I had to do something new. The new thing I tried was being honest. It was really terrifying and difficult for me. I feel even if I wasn't overly specific about anything, the honesty is conveyed in our music and people will understand that it's a very honest and personal record."
RY: Did you feel that on past albums you were being too vague or not honest enough about your happiness?
Keith: "Yeah, I think I was being intentionally vague so that I never had to take responsibility for anything. I was constantly running around the topics I was trying to get to…I wasn't coming anywhere near to the message I was wanting to get across – that was a long and boring road for me. Now, I feel better."
RY: Now that you've had this emotional upheaval writing wise, as well as that different studio experience, what do you hope this album does for you guys?
Keith: "I don't know that I need it to do anything for us. I just needed to know that I could do it. If you had asked me after Ex Lives if there would've been another album, I would've said absolutely not. The fact that I was able to go to a different state and write from a truer centre, I hope that really shows and people understand. To me, this feels like our first record. I hope that energy and enthusiasm I found again translates."
Catch Every Time I Die on the Vans Warped Tour this summer.
-Adam Grant
Please be sure to follow us on Twitter @riffyou and at Facebook.com/riffyou.