Fan Review: OK Go Get Interactive & Enthused in Toronto

It was October 14, 2010. There I was, standing inside the legendary Toronto concert hall, The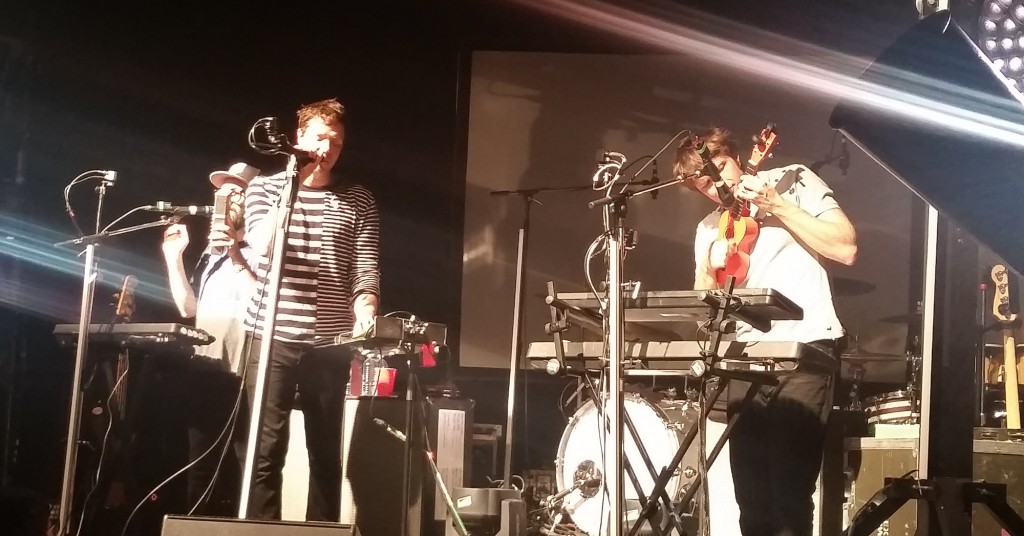 Phoenix, waiting to see Chicago-born, LA-based alt-pop group OK Go take the stage. I, along with about 25 million other people, had already seen their ultra-creative, super low-budget video for the 2006 hit "Here it Goes Again," where band members synchronize-dance on treadmills in suits and ties. It was quirky, fun, and so was the track. But that was a YouTube video. I wondered – 'Would a live OK Go show have the same feel?' After seeing this group perform live for the first time five years ago, the answer was a resounding 'yes.'
That show was high-energy and highly entertaining from start to finish, and left me with a big smile on my face and confetti in my hair (more on that later.) I'm happy to say last night's OK Go show at The Phoenix was a beautiful reunion that did not disappoint.
Expecting the unexpected with this wildly creative and think-outside-the-box band is par for the course. That's why it was not surprising to see Damian, Tim, Dan and Andy come out on stage, and play the first few songs from behind a translucent curtain, upon which video and images were being displayed. They opened with "Upside Down & Inside Out," a fun track from their latest album Hungry Ghosts, followed by "You're So Damn Hot" and "The Writing's on the Wall." It wasn't long before most people were bopping along.
As far as the gadgets and tricks OK Go have up their sleeve when playing a live gig, the tool kit was broad and varied on this night. Multimedia was ever present throughout the evening. The regulars were there: video screens, handheld digital music makers, mic stands dressed up in LED, bright lights, and let's not forget the industrial-size confetti machines. (There was a lot of confetti!) At one point, using an app on his iPhone, frontman Damian Kulash solicited the crowd's help to record different percussion noises, which the band later used in a song.
There was also no shortage of stage-audience interaction last night, which was just as entertaining as the music. Several times, both Damian and bassist Tim Nordwind paused to take questions from the crowd. Sounds silly, but a simple and short Q&A session (with plenty of sass, of course), can go a long way when connecting with new fans, or charming old ones. The questions ran the gamut, from the blunt "Damian, are you single?" to the straightforward "What's the origin of your band name?" to the cheeky "Are you tired of being associated with treadmills"? All in all, they were nice breaks that granted some good laughs and a more intimate feel to the show.
While the other band members took a brief break, lead singer Damian took his guitar off-stage and played an acoustic version of "Last Leaf," from a small platform in the middle of the room. Belting the slower tune sans mic, he seemed completely at ease with fans singing along by his side.
The band served up almost two hours of hits, including "Get Over It", "Skyscrapers," "Do what you Want," and a wonderfully badass cover of Led Zeppelin's "Black Dog. They ended the set with one of their newer tracks, "Turn up the Radio."
The encore is where OK Go truly shined. After several minutes of fans chanting "OK-Go," the boys returned to the stage in white hazmat-looking suits and sent the crowd into a major frenzy with a choreographed dance to "A Million Ways," complete with a slow-mo fight scene and a Nordwind lift.
Nothing is as it seems with these creative cats. During "White Knuckles" and the popular "I Won't Let You Down," the black lights came on, giving way to bright neon patterns on what at first, looked like plain old, boring white suits.
Capping the night off with a happy energy that has become this band's unofficial hallmark, OK Go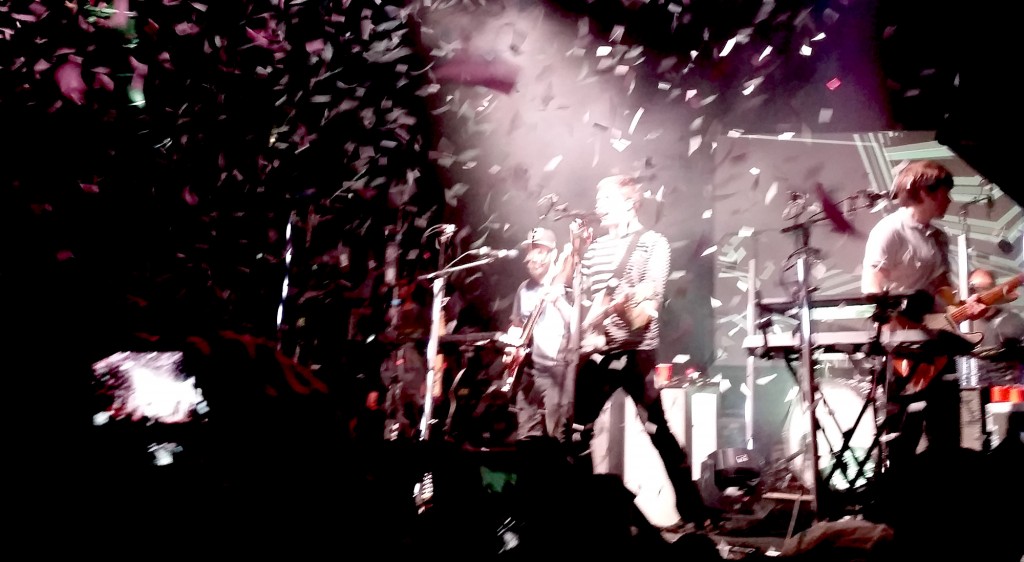 delivered a rock-out rendition of "Here it Goes Again," with confetti machines blowing full blast, and an invite to a handful of fans from the front row to come up on stage and partake in an impromptu dance party. I'm still humming the tune today…(earworm, anyone?)
What I loved about this band when I first started listening to them a decade ago is still what captivates me about them today. Their songs – while sometimes coming across as sunshine and lollipops – are often just that, but always done with a flair for smart lyrics. Then there are the insanely innovative DIY videos, and rock solid musical talents. What you see in OK Go videos translates well to what they pack into a live stage show, making their performances a must see for fans.
-Review and Photos by: Jackie Vandinther
Please be sure to follow us on Twitter @riffyou and at Facebook.com/riffyou.