Fan Reviews: Hedley Get Wild in Kitchener

On February 27 2014, Hedley made a stop at the Kitchener Memorial Auditorium, and for a lack of better words, it was absolutely incredible! Every time I see Hedley, I can honestly say that they get better and better, and this time was no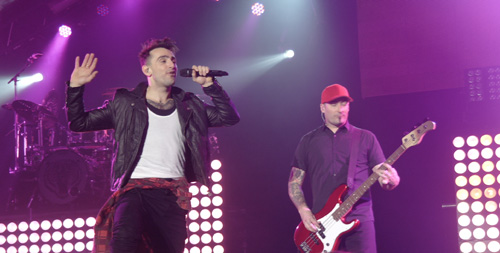 different. Hedley did an amazing job of keeping the audience engaged and excited while also perfecting every note. They never failed to keep the audience on their feet, dancing and singing along the entire night. This was probably one of the most fun and entertaining concerts I've ever been to.
Singing hits like "Anything" and classics like "Perfect" and "Trip," Hedley also managed to incorporate amazing new tracks off of their 2013 release, Wild Life, such as "Heaven in our Headlights," "All the Way," and "Dreaming's for Sleeping." Frontman Jacob Hoggard's vocals were perfect all evening, even while holding the high notes included in "Crazy for You." The amount of energy that Jacob has on stage is so infectious and impressive that fans had no choice but to sing and dance along. The rest of the band consisting of Tommy Mac (bass), Chris Crippin (drums), and Dave Rosin (guitar), were also awe-inspiring with impressive guitar and drum solos that amazed. Hedley always creates an atmosphere that allows fans to feel comfortable and appreciated, and they are probably my favourite band to see live.
To top it all off, I was also able to meet the band before the show and can honestly say that they are probably the funniest guys I have ever met. While I was freaking out over the fact that I was standing in front of Hedley, they were making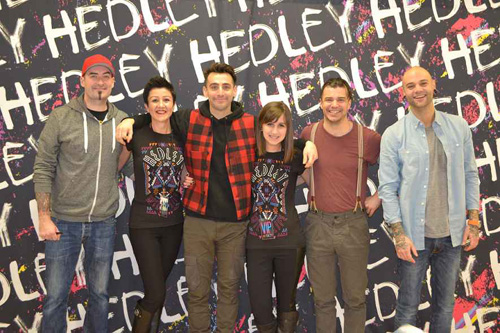 jokes and making me feel really welcome. Jacob, Chris, Dave and Tommy are really nice guys that truly appreciate their fans. Furthermore, I was also able to sit in the third row during the show and was able to see how the band interacted with the fans firsthand. They were always making sure to reach down and high-five some fans while walking by or throwing their guitar picks out for fans to keep. I could probably go on forever about how much I love Hedley and how great of an experience this was.
Overall, Hedley is a fantastic band to see live and their music if very inspiring and heart-warming! Meeting them definitely made the experience that much better. I would definitely recommend seeing Hedley in concert next time they're in town!
-Tanja Saric
I have been waiting two – what has felt like VERY long – years for Hedley to come back on tour.  Luckily for me, the band stopped in for a show at the Kitchener Aud on Thursday, February 27, 2014 on their Wild Live Tour to promote their newest album, "Wild Life." As I counted down the days, the anticipation mounted.
True to form, the opening acts were all high-energy performers. Alyssa Reid started off the night by playing many dance-worthy hits, including her singles "Satisfaction Guaranteed" and "Alone Again." Her keyboardist also had an opportunity to sing "We Are Stars," the debut single from his own project Virginia to Vegas (it features Alyssa Reid herself). The dance hits continued as JRDN and Danny Fernandes each took the stage, playing to the nearly sold-out arena crowd. No one on the floor was in their seats from the moment they took the stage.
If you've seen a Hedley show before, you know they are kind of goofy and often produce a couple of videos to play before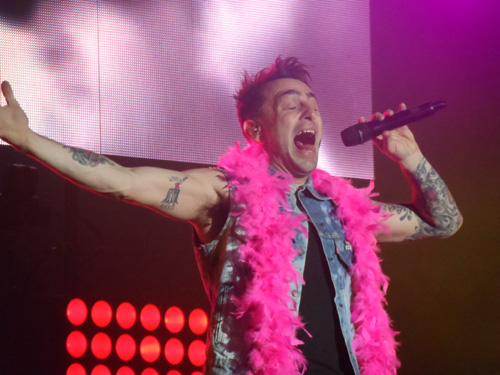 the show and during intermission to entertain the audience. The Wild Live Tour was no different and the opening sequence sufficiently pumped up the crowd.
As Chris Crippin, David Rosin, Tommy Mac and Jacob Hoggard took the stage, the arena erupted. Their first song, "Anything," which was the lead single from their newest album, had everyone in the venue on their feet singing, dancing and jumping around. Hedley didn't let up as they followed up with several fist-pumping and booty-shaking hits interspersed with a number of songs off the new album, including "Heaven in Our Headlights," "Headphones," "Mexico," title track "Wild Life" and their latest single "Crazy For You." Visually appealing, the show included a bearded man dressed up as an old lady for "Don't Talk to Strangers," and cheerleaders bringing it on during "Cha-Ching."
While I have a newfound appreciation for "Old School" as I've aged, "Trip" was a favourite of mine right from the beginning and I was happy to hear them end their set with a raucous version that outshone the album version. The encore was equally entertaining with "Kiss You Inside Out"; Jacob's favourite song to sing "Sweater"; and ended on a loud rendition of "Never Too Late."
Overall, Hedley put on a very fun, energetic, bust-a-move worthy concert and I cannot wait for them to come back to town in another two (hopefully not-so-long feeling) years for another rip-roaringly entertaining show!
-Jessie Sipione