Riff Review: Monster Truck Comes Home for Club Absinthe Anniversary

In the local music community, loyalty is everything, and this was proved on Friday night as Hamilton lads done good, Monster Truck, returned home on Friday night to celebrate the 10th anniversary of Club Absinthe. The band may now be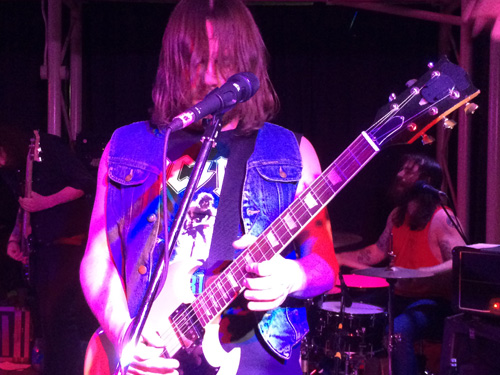 JUNO Award winners and Alice in Chains tour mates, but the guys, and their fans, have not forgotten where they came from.
The event, which was billed as a secret show for some time, brought out a mixture of fans; area musicians; staff members from competing clubs; music press; and a whole lot of people who keen on straining their vocal chords and emptying the bar fridges.
Taking the stage a little past midnight after a killer performance by Toronto's Organ Thieves, the bearded bastions of throwback southern-blues rock pummeled the stage from the moment they jumped upon it. The crowd was enthusiastically up in the band's grill, as they powered through pulsating tracks like "Undercover Love," "The Giant," "Runnin'," "Power of the People," "Boogie," "Sweet Mountain River," and a ton more.
Guitarist Jeremy Widerman in an AC/DC t-shirt and sleeveless denim jack played like a man possessed, while frontman Jon Harvey belted out each number with an unrelenting tone and power. Meanwhile, drummer Steve Kiely hammered the night away, and organist Brandon Bliss could be seen with a spark in his as he smacked the right notes and kept a close eye on the excitement before him.
The front pockets of the crowd were a sweaty, beer-doused collective that refused to give in, while those choosing for a further back, less chaotic view, could still feel Monster Truck's superb sonic push without missing out on anything.
Instead of opting for an awkward and unnecessary journey through the masses to facilitate an encore break, the band merely just told the crowd when that was happening. After blasting through "Seven Seas Blues,"  "Righteous Smoke" kicked into action, and left Widerman the proud new owner of a feathery pink boa.
Considering the roaring upward trajectory Monster Truck is now on, catching them in a small club such as Club Absinthe was a true treat. Kudos to the fans, club, and band for making it happen, and making it clear big stage events can still translate well upon the smaller ones.
To get a true feel for the night, scroll down to watch Riffyou.com's full-song footage of "Sweet Mountain River" and "Righteous Smoke." For more sights and sounds from the night, please head over to our official YouTube channel.
-Adam Grant
Please be sure to follow us on Twitter @riffyou and at Facebook.com/riffyou.