Foo Fighters Drummer Flying with The Birds of Satan

It's no secret that Foo Fighters are working on their next album, but until complete details about that release unfolds,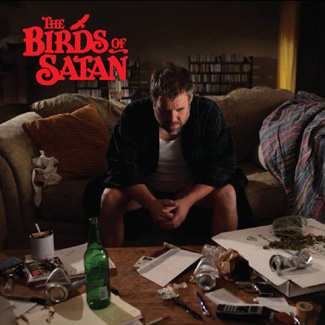 the band's drummer, Taylor Hawkins, will put out an album with his new side-project The Birds of Satan.
The band is also comprised of Mick Murphy (guitar) and Wiley Hodgden (bass), the same two gentlemen, who along with Hawkins, round out '70s cover band Chevy Metal.
Contributors on this album include fellow Foo Fighters Dave Grohl, Pat Smear, and Rami Jaffee, while the production needs were taken care of by John Lousteau (Foo Fighters, Against Me!).
Also, it is noted that The Birds of Satan track "Wait Til Tomorrow" will feature "the first documented recorded Eddie Van Halen-style guitar solo of this decade."
Visit the trio's official website for pre-ordering possibilities, as well as to view a promo video for the album. It'll officially be released on April 15 through Shanabelle Records.
Here's the track list:
1. "The Ballad of the Birds of Satan"
2. "Thanks for the Line"
3. "Pieces of the Puzzle"
4. "Raspberries"
5. "Nothing at All"
6. "Wait Til Tomorrow"
7. "Too Far Gone to See"