Q&A: The Dirty Nil Grow Up and Get Fat

If someone were to do the math, it would likely be determined that not many bands from small town Ontario have ever 'made it.' In the case of Dundas' punk rock trio The Dirty Nil, it's not yet clear if they'll be one to bump up the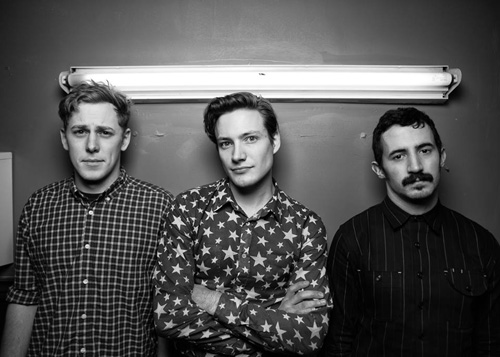 percentages, but they're certainly on their way.
In January during a Reddit "Ask Me Anything" segment, Fat Mike Burkett, frontman of NOFX and boss man at Fat Wreck Chords, publicly proclaimed his affection for the band. This, of course, brought more eyes and ears to the guys – Luke Bentham (guitar, vocals), Kyle Fisher (drums), and Dave Nardi (bass) – as well as a big dose of cred.
That said, while Fat Mike's endorsement is nothing to spit upon, The Dirty Nil have the sonic chops alone to garner interest from punk inhabited communities. While the band has released or been a part of a handful of 7-inch's, they have made their first true album statement with the Smite EP. Five grit-infested, charging, melodic bangers are onboard here. If you were ever interested in throwing your arm out of socket while fist-pumping beside your stereo, then Smite would be a worthy investment.
Recently, Riffyou.com caught up with Bentham to discuss the growth of The Dirty Nil, along with what it was like to be cold-called by Fat Mike.
RY: With this album, how'd you guys hope to evolve past your prior recordings?
Luke: "We knew when this album rolled around that we needed something more substantial…a larger release. We were stoked that we got all of these songs together and what we wanted to sound like. But, a lot of it was an experiment to try different ideas in terms of writing. Getting older as a band – we've been playing together since high school – it's exciting to keep working and evolving together."
RY: You mentioned that you hoped to expand your writing techniques this time around. What did you try to zone in on?
Luke: "Dave's tune, "New Flesh," was the first full song that he brought in and we fleshed out…no pun intended. But that actually happened, and we were all stoked about it. The other four songs came from ideas that I had. When I was away at school, I'd work on them, but they didn't sound anything like they do on the record. It's fun to see how those evolved. Dave brought his tune and it was done, which was great, because mine needed a bunch of work. Like "Pale Blue," it took a long time to get that one going because it didn't make much sense, but I had the melody, words, and parts [in mind], but it took a while to put them together in a way that made sense. Then again, "Nicotine" was easy to write, and we then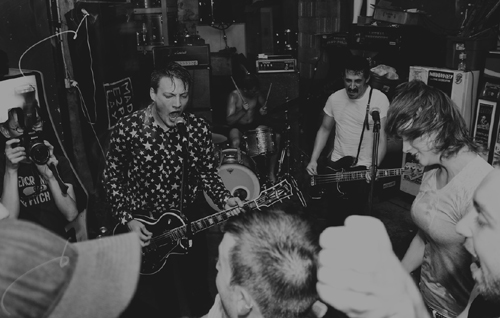 tidal-waved through the rest of them. Since finishing the EP's songs, we've been the most prolific we have ever been…we have a ton of new songs that we're working on for a more substantial release. I'm even more stoked on the new songs that we have, than the ones on the EP. Productivity has been snowballing."
RY: One thing that really sticks out about The Dirty Nil is your vocals. When I listen to them, I hear Nirvana and The Vines. Where did your vocal prowess come from?
Luke: "Like anyone who picked up guitar at the time I picked one up, Nirvana was pretty impossible to avoid in terms of influence. But, I was lucky to have people with better music tastes surrounding me and showing me different things that changed the way I thought about music. I don't listen to Nirvana anymore – not because I don't like them – but I listened to so much Nirvana when I was 14 or 15, that I can just think about [their music] and it plays in my brain. They're a big [influence], but I got into bands like The Replacements…I really started liking that kind of grit and learned how to do that stuff. With my voice, I slowly pushed it harder, but still tried to maintain it and keep it stable."
RY: Considering that the current version of the band came to be in 2008, it's been a bit of a long road to this point. Does all of this recent attention your band is getting feel odd or rewarding?
Luke: "It's always really nice to hear that people are picking up on what we're doing…especially when you get to go to Brooklyn and there's a bunch of people there who are stoked to see you play. All along, we've had an underlying belief in what we're doing, so [the attention] is not a total surprise. We try to be humble most of the time, and have a good time with what we're doing, but it would be a lie for me to say that it's a complete surprise that people are picking up on what we're doing."
RY: One thing a lot of people know about you now is that Fat Mike from NOFX is a fan. Did his statement on Reddit about hoping to sign The Dirty Nil hold any water?
Luke: "Umm, I have to be really careful about what I say with this one. We have been in contact with him, but there's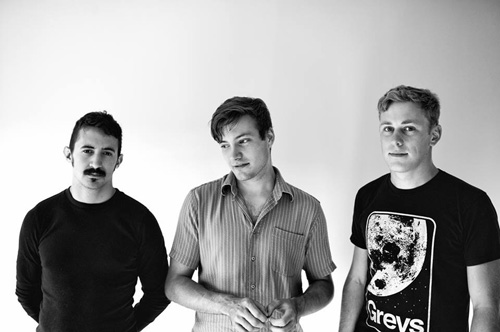 nothing I can really talk about right now. It's still up in the air. But, it was a pretty big thing to get a phone call from him that one day. To think that people are listening to our band in Southern California, with that kind of fervor, it's pretty cool. In terms of the nature of our relationship, right now we're friends."
RY: For you, does having someone like Fat Mike reach out to you give you any further validation for what you're doing musically?
Luke: I'm not going to lie – it's definitely a bit of a validation when something like that happens. It's someone pretty big from the community reaching out…it's not necessarily a community I've ever been involved with. A lot of people I've spoken with were really losing their minds over [the story] because they had more of a relationship and emotional connection with Fat Wreck Chords than I did…it just wasn't the thing that was going on in my formative years. To hear how earnestly he really liked our band, was amazing. You then try to dust that off of your shoulder and move onto the next thing…it's pretty easy to sit there and go 'golly!' and sit there and smile about your past accomplishments. It's motivating, but by no means an end."
-Adam Grant
Please be sure to follow us on Twitter @riffyou and at Facebook.com/riffyou.