The Friday 5: Five Important Questions with Brian Byrne of IME

Brian Byrne may best be known as the frontman for beloved Canadian rock act I Mother Earth. That said, he's also a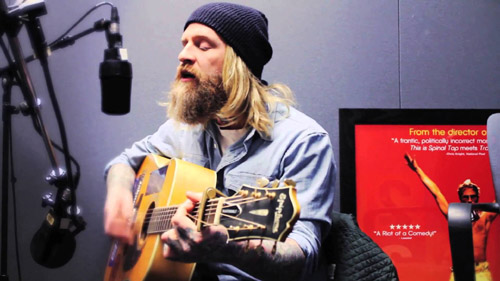 charming solo artist that has recently lent his name, time, energy, and voice to Collateral Damage, a suicide awareness and prevention organization.
Byrne recently released the track "Arizona (I Miss You Most)," as a way to raise funds for the group, and generate more attention to the cause. You can read more about this initiative right here, as well as Byrne's thoughts about it.
After speaking about The Arizona Project, Byrne was gracious enough to answer five of Riffyou.com's really important questions. Here's how that went:
What is your favourite place to play guitar?
"At the kitchen table with my wife. It's where we hang out together when the baby's in bed. We have a glass of wine and play together. It's just our time to sit, be together, and write."
What is your favourite pre-show meal?
"You know, I don't eat before shows, ever. Still to this day – even after 20 years of doing this – I get so anxious. I don't eat a thing. I'll just drink water and tea."
What album gets you out of a bad mood?
"Pretty much anything by Pantera. I can't help but smile when I hear Dimebag Darryl play and Phil (Anselmo) sing. It's like, 'ah! This guys are the best metal band ever!'"
What band inspires you?
"Throughout my life, the one thing that I constantly go back to – and who inspired me to start singing – is U2. If I put on The Unforgettable Fire or The Joshua Tree, there are very few things that, to me, touch the emotion in that singing."
Who is your biggest fan?
"I'm going to go with my wife. She's very nice, man."
Please be sure to follow us on Twitter @riffyou and at Facebook.com/riffyou.