The Friday 5: Five Important Questions with The Reason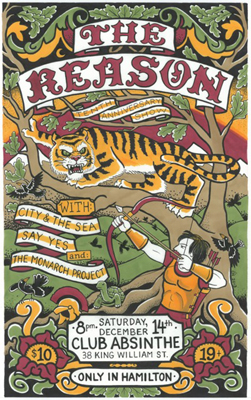 The Reason are back home following a pair of scary accidents in Saskatchewan that left the band quite shaken. However, the guys are very happy to be home for their 10-year anniversary show on Saturday night in Hamilton, ON, at Club Absinthe.
Recently, we had the chance to ask frontman Adam White five really important questions.
What is your favourite place to play a guitar?
"I love playing guitar at campfires – camping is one of my favourite things, and guitars are one of my favourite things, so both at once is great."
What is the best pre-show meal?
"At this Toronto show we played at a restaurant that [made] quinoa salad. It was chalk full of energy and protein and didn't make me feel like I wanted to hang myself. For a pre-show meal, that or sushi are both good."
Which album pulls you out of a bad mood?
"Right now, I like that Days Are Gone record by Haim – those three girls who play '80s music. I hadn't heard anything like that in a while and our drummer thought I should listen to it, and that I would like it. It was the album of the tour for me. Whenever I felt like I wanted to kill people or go home, I would just listen to that and it would put me in a better state."
Which band inspires you the most?
"Moneen. They taught us everything we know about touring and stuff. We've looked up to those guys since day one – and got to play shows with them when we were young…that was a dream come true. Then we became friends. When we've needed advice, Moneen has been there [because they] have been through a lot of the same things as us. That's the band I look up to the most."
Who is your biggest fan?
"This girl Adynne. She lives in the Kitchener, ON, area and has been coming to shows since she was young – she used to come to shows with her mom. They'd always make us cookies and travel two to three hours to come see us…for like two or three nights in a row. She still comes around and is at all of the important shows. Stuff like that is dedication. You can tell that she's really into the tunes. Whenever you see her, you're like 'oh Adynne's here, it must be an important show.'"