Interview: The Reason Talk Trailer Accidents, Future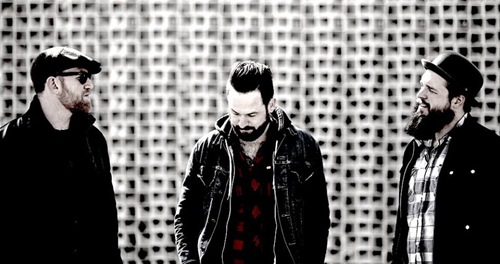 The Reason experienced a very shitty beginning to December. As previously reported by RiffYou.com, the Hamilton, ON, rockers had two vehicular accidents in Saskatchewan in a 36-hour span last week. Fortunately, no one was physically hurt, but the group's frontman Adam White admits that the band is rather shaken.
"We're pretty fucked up over what happened," he says, adding that this situation will indefinitely change how The Reason goes about their business. "We're changing a lot of the rules of how we operate. We aren't playing shows unless they absolutely matter to our career, or we can make money from them. We can't afford to go on tour and lose thousands of dollars anymore – that's just not worth it to us."
White goes on to state that Canadian fans shouldn't expect to see the band touring the country from November 1 to April 1. The Reason will still be open to doing shows far from home and/or out of province, but fly-outs or tour bus sharing with other bands would have to be part of the deal.
"I'm not getting behind the wheel of a van with a trailer behind me in December ever again," confirms White. "I've never been in a car accident in my entire life and I've been driving since I was 16. So, to have that be my first accident and have it almost kill three of my friends…I'm not going to put myself in that position again. Life is too important to rush to a fucking show in Thunder Bay to play to 30 people."
When recalling the events of December 1 and 2, White is able to get into play-by-play mode rather easily. He equally remembers at the end of the first ice-induced accident feeling that it could've been much worse, then noticing that the trailer (which was attached to The Reason's van) had its axle snap during the ordeal. Then came a monumental quest to get said trailer fixed for $800. Not a small fee for a band touring independently.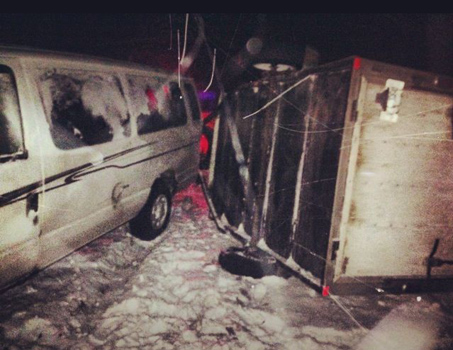 Then, once back on the road and watching it like a hawk two and a half hours later, The Reason hit more ice and the trailer rolled twice, ending up in a ditch. Cops at the scene on both nights don't know how the band's van didn't flip as well.
"It was dark and now the snow was falling. I didn't see anything there and I was being really careful," explains White in regards to the second accident. "I was looking right at the road and didn't notice any patches of ice or slippery sections. Then, boom, you have zero control and hope that you don't die. Before we even saw that the trailer flipped, we felt that we weren't getting back in the van."
Through a number of Facebook posts regarding the situation, The Reason was fortunate enough to receive assistance from a friend in Calgary, who helped arrange for cheap flights to get the band home. The misguided trailer was sold for parts and their gear was shipped home.
White can't help but view this as the worst thing The Reason has ever experienced as a band. Interestingly, it occurred two weeks ahead of the band's 10th anniversary concert, to be held on December 14 at Club Absinthe in their hometown of Hamilton, ON.
"Every time we get to play in front of an audience that's really engaged…when people know the lyrics of songs and sing them louder than you, that's a pretty good feeling whether it's in front of 10,000 people or 200," responds White when asked about the best part of his group's 10-year run. "When you have people yelling all of your words back at you, and you're the one who wrote those words, that's a pretty special feeling. You feel like you've accomplished something important here."
While that's all fine and good, White can't help but long for more. He admits that The Reason's 10 year anniversary kind of snuck up on him and that while he seems impressed by that, he wishes that the band were further ahead at this point.
"Any other band I know that has lasted 10 years is way fucking more popular and has accomplished more than this band. How have we lasted so long? I have no idea," offers White. "I think every time we put out a record, we have all of this hope and positive energy that gets us through the bad. But still, we've had a lot of small breaks – we've never had the huge thing happen that takes you to that next level where you don't have to worry about stupid shit like fixing trailers."
-Adam Grant