The Reason Get into 2 Van Accidents in SK, Members Okay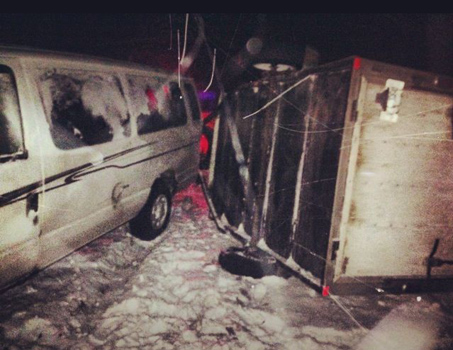 Hamilton, ON, rock act The Reason has been in two vehicular accidents in two days while travelling through Saskatchewan. The band says that they are okay and hope to make it home soon.
On December 1, The Reason's van hit black ice in the province and spun into a ditch. The trailer of gear attached to the vehicle, says the band, kept the van from rolling over. However, this accident broke the trailer's axle and the guys spent the next day in Regina getting it fixed.
Last night, after the repairs, The Reason hit more black ice in Saskatchewan and this time rolled the trailer, rendering it unusable. In a lengthy post upon the band's official Facebook page, they thank the RCMP and Don's Towing in Moosomin, SK, for their immediate assistance and the Trails West Hotel in Brandon, MB, for providing them with a free room after the second accident.
Where it stands now is that The Reason will unload the van, sell the trailer for parts and ship their gear home, before flying there themselves. They will be making these arrangements within Brandon and Winnipeg, MB, today and "would be more than grateful" for any assistance that anyone could provide.
"In 10 years of this band and 3 years touring in SWN before this we have never, ever been in an accident and in two days we have been in two," reads a statement on The Reason's Facebook page. "It's too scary. We've been through some serious stuff as a band but this a new sort of morale killer. Once again, we're all okay and safe!!! Thank you to everyone for listening. Let's just get home safe."
The Reason is scheduled to play their 10th anniversary show at Club Absinthe in Hamilton, ON, on December 14.