Interview: The Penske File Remain Restless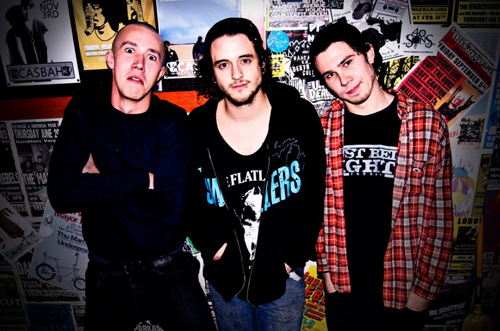 As soon as Burlington, ON's, The Penske File released their debut album, A Restless Symphony, this past April, the band got the hell out of town. No, they weren't ashamed of their effort or afraid about how those around them would react. The reality was that the band – Travis Miles (lead vocals, guitar, harmonica), James Hall (bass, vocals), and Alex Standen (drums, vocals) – had a sizeable Canadian tour to get to.
Beginning on April 26 in Hamilton, ON, The Penske File took to the road to showcase an album packed with swift and engaging melodic punk with a folk tinge (a damn good release might I add!).
Truth be told, if it wasn't for this tour being booked with Fire Next Time, chances are the band and fans alike may have had to wait a bit longer for this album to have taken shape.
In conversation with RiffYou.com, Hall recalls the trio's desire to have a new release ready for audiences in markets that The Penske File had either played once or never before.
"In terms of the writing process, we were able to get down to the nitty gritty," reflects Hall. "Stress levels were high because there was this sense of urgency. We weren't rushing the quality, we [just realized] that we needed to pump out these songs. We would get multiple songs done in terms of a skeleton, then go back through and break down every little detail."
Hall adds that the guys would spend at least 20 hours a week rehearsing, before eventually laying tracks down with John Fielding, the album's producer and the Co-Founder of Young Heart Music, a label in which was essentially built around The Penske File.
"I know [Fielding's] always wanted to do something like that…basically build a [label] format for bands that actually care and make music that he thinks is good, and give them a stepping stone without taking money away from them," says Hall. "He brought that opportunity up to us, and we were like 'wow, thank you so much.'"
When speaking with Hall about the business side of things, he does admit that The Penske File wants to pursue further label support with the goal of breaking through in the U.S. and overseas. Distribution in those regions, he explains, is needed, not to mention some assistance with booking shows.
That said, Hall does make one thing perfectly clear: his band won't be controlled by outside forces.
"Working for everything has its gains because, at the end of it, we are the only decision makers. If we want to do something, we do it. If we don't want to do something, we simply don't," he explains. "I want a sense of independence to always be with our band, because we've always been that way. We're not going to sign any contract that says we can't make any decisions."
Beginning this month, The Penske File will play a few more Canadian dates before making their first trip to the U.S. of A. Hall confirms that a number of new songs are already in place, while the writing of others continues to occur. He says to expect the band's next album by mid-summer 2014. In the meantime, it's all about attacking the stage and keeping audiences engaged.
"The more people I play in front of – hopefully they'll buy the record and listen to it again – but honestly, I'd rather see them at the next show," offers Hall. "I want to see faces out and people having a good time. Whether we play to a room with 20 or 100 people, it's the same feeling every time we get on stage. We have a great time because we are three best friends that play music we love and get to travel for the cost of food."
Check out The Penske File on December 7 at Burly Calling in Burlington, as they open for The Saint Alvia Cartel at Boston Manor.
-Adam Grant
Photos by: Ashley Sloggett