Q&A: Head of the Herd Not Feeling the Blues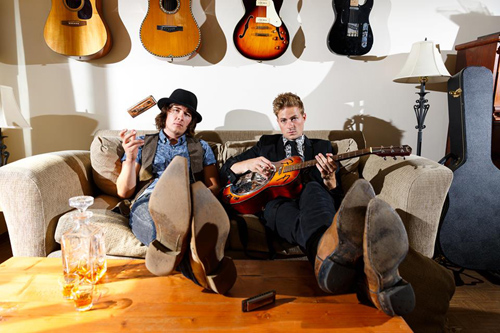 BC-based blues-rock duo Head of the Herd owe a couple of ladies a big debt of gratitude for getting them to where they are today.
A few years back, Neu Mannas and Clayton Frank didn't really know each other, but had girlfriends that happened to be roommates. During this era, it was decided that the foursome would pack themselves into a vehicle and make their way to Boise, ID, for a college football game. At the time, at least Mannas was not aware that the drive he was about to partake in would last 24 hours.
It was on this lengthy ride that he and Frank first truly became acquainted with one another. During the trip, the pair snuck mickeys of booze into the game by shoving them in their boots; shared music interests; and compared demos. By the time this adventure had completed, a new one was about to begin.
This trip to Idaho paved the way for what would become Head of the Herd. In 2011, the band won Vancouver radio station CFOX-FM's FOX Seeds artist discovery competition (previous winners include Matthew Good Band, Nickelback and Bif Naked). The win also led to the beginnings of a few more important relationships, including ones with super-producer Gggarth Richardson and Finger Eleven guitarists James Black and Rick Jackett.
That trio of fellas would serve as producers on Head of the Herd's 2013 sophomore album By This Time Tomorrow which, before signing a deal with Universal Music Canada, spawned the #1 radio single of the same name. Featuring Mother Mother's Jasmin Parkins on guest vocals, the done-me-wrong, relationship crumbling blues track has set the band up nicely moving forward.
Recently, RiffYou.com caught up with Mannas to discuss how the album came to be, as well as if the art of storytelling in songwriting is now a lost one.
RY: Are you surprised by the reaction people have had to your album?
Neu: "We're definitely grateful. I mean, having a #1 song before a label was more than we could've dreamed of. Truthfully, when we wrote the songs we thought they were good stories and that people were going to react to them. So, the fact that we got this type of attention blows our mind and is something that we're thrilled about. Without a label, we had to be very confident with the songs to write the cheques to get all of the people that we wanted to get involved."
RY: You had Gggarth Richardson and Finger Eleven's James Black and Rick Jackett do production work on your album. What led to deciding on those guys?
Neu: "CFOX, a radio station in Vancouver has this band contest that we won in 2011. Through that we met Gggarth and he was really keen. He said, 'I'm doing Biffy Clyro's record right now, so I'm going to need a year before I have time, but I really want to do your record.' Through that same contest we met Finger Eleven's manager and when we played a Toronto showcase, the Finger Eleven boys came out and we got along – I'm pretty sure we drank all the beers in Ontario that night too."
RY: Were you concerned that the album wouldn't sound cohesive due to having multiple producers on it?
Neu: "It didn't concern us because all of those songs came out of the same batch of demos. We drove to Idaho again last year to write them…we banged out about 25 tunes. We sent them all to Rick, James and Gggarth and told them to go to town. When they picked the songs, we were surprised with some of their choices, but I think it worked out quite well."
RY: Were you taken aback by their interest to work with you?
Neu: "Looking at Gggarth's track record and Rick and James' career…it was surprising, but we really do believe in these tunes. It was nice to see other people see the potential. Once we worked together, we were thrilled, because we made a great record. We knew we were there for the right reasons."
RY: Blues rock is not really as prevalent on mainstream radio right now. Is it surprising that you have received such acceptance thus far in radio land?
Neu: "When we finished the album, we didn't see "By This Time Tomorrow" as the single. We had a good friend of ours tell us that it was the single. It's been important to us to bring storytelling back to songwriting. I think with rock music, a bit of that is lacking and I really didn't expect radio to jump on us how they did. It blew my mind. The story in that song of a relationship going south with me acting the fool and Jasmin waving her finger at me was one that everyone got into. [This instance] certainly renewed by faith in radio."
RY: Going back to what you were saying about storytelling, why do you think some bands don't focus on that as much as they do hooks?
Neu: "When some bands think about their singles, I think they're trying to dumb them down. Not everyone's doing that, but a fair few are. With us, storytelling has been the goal since day one. We've been inspired by people who have done that, like bluesman Muddy Waters and country people like Johnny Cash."
RY: Was there a risk of having a guest star appear on your debut single? Especially since she's not a member of the band?
Neu: "Truthfully, we figured that might be a hurdle. But since the song came out and got a nice reception, we realized it was the right call. It really connects with people. She's not the lead singer of Mother Mother, so to let her have a moment there was a good way to show how she could shine outside of that. If it sounded like a Mother Mother tune, then we'd be in trouble."
Head of the Herd are playing Burly Calling on December 5 at Boston Manor in Burlington and December 6 at Sound Academy in Toronto.