The Friday 5: Five Important Questions with Rusty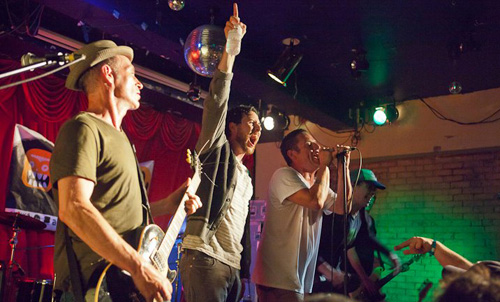 At the end of 2013, resurrected Canadian '90s rock quartet Rusty triumphantly took over Toronto's Legendary Horseshoe Tavern for a pair of gigs. Ahead of that, we caught up with guitarist Scott McCullough, who not only informed Riffyou.com about his hopes to release a new Rusty album in time for the band's 20th anniversary in 2014, he also answered five really important questions.
What is your favourite place to play a guitar?
"I have a little studio across from the abattoir (slaughterhouse) down at Niagara St. and Tecumseh St. [in Toronto]. At this point, it's where I play the most guitar because it's quiet and I'm by myself. It has a bit of a bad smell in the air a lot of the times because there's a pig slaughterhouse next door." [laughs]
What is your favourite pre-show meal?
"The best pre-show meal occurs at least three or four hours before you play, because you don't want to eat too close to playing. Sometimes, depending on the night, beer becomes your pre-show meal."
What album gets you out of a bad mood?
"Tin by The Replacements. The songs are so great and they have that bittersweet, slightly melancholy, yet uplifting feeling. If you're not in the best of moods, they show you the good side and the bad side."
What band inspires you?
"I'll go back to The Replacements, because I happened to see them at Riot Fest (in 2013) and they were amazing. They hadn't played in a long fucking time, but they were spot on. Opening that show was Iggy [Pop] and The Stooges, who I've been a fan of since I was a little kid. The fact that Iggy is still grinding it out and doing what he does on stage…I find that very inspiring too."
Who is your biggest fan?
"There was this gal and she'd come to all of our all ages show and she was very little. We took a shine to her and gave her special treatment…like take her backstage. When we did that reunion show back in 2000, I guess she was just old enough to get in – or maybe not, and we snuck her in. We remember seeing her and we knew her from being that 13-year-old. So, we grabbed her from the door; took her backstage; gave her the run of the place; and let her do what she wanted."
In case you missed it, check out our full-length interview with Rusty where we discussed the road to the band's reunion, as well as future plans.
Please be sure to follow us on Twitter @riffyou and at Facebook.com/riffyou.