Interview: Rusty Never Sleeps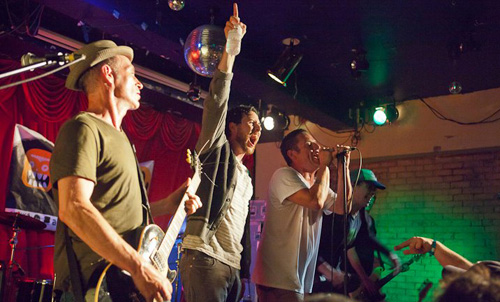 Not every band is afforded a second chance, but Rusty is one of them. Having disbanded back in 2000, it took the '90s Canadian quartet 11 years before being presented with the opportunity to reunite on stage.
"It was actually my old bandmate John Kastner from The Doughboys…he voiced the idea to do it. He got the ball rolling on [the reunion] and everybody was into it," recalls Rusty guitarist Scott McCullough when in conversation with Riffyou.com.
The setting was the 2011 NXNE music festival and conference in Toronto, ON, opening for Fucked Up and The Descendants at Dundas Square before a bunch of music appreciators and curious bystanders who couldn't help but stop to take a glance at a free show.
When asked about how attendees responded to that Rusty gig, McCullough remembers reaction being tepid. Fortunately for the band, the other acts on the bill also suffered from a lackadaisical crowd. On the same weekend, however, Rusty jumped upon the stage at a sold out El Mocambo and received a much more appreciative reaction, thus providing the band with an added dose of encouragement.
Rusty would return in late 2012 for their "It's Christmastime and I'm Poor" tour of Southern Ontario, which would culminate in a near-year-end gig at the Legendary Horseshoe Tavern, where McCullough and the guys would be drowned out by a crowd hammering back their own lyrics.
So what the hell happened to Rusty in the first place?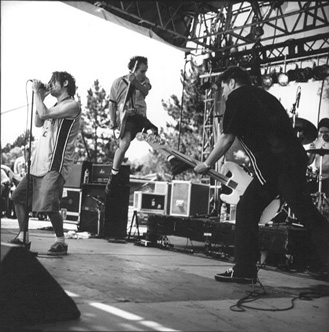 In the mid-to-late '90s the band rode a wave of momentum on the backs of radio and music video channel supported singles like "Misogyny," "Groovy Dead," "Empty Cell," "California, and "Soul For Sale." They toured extensively; had a record contract with Atlantic; and earned a JUNO nomination for Best Alternative Album.
However, as McCullough explains, even though the group's first full-length studio release, Fluke (1996), almost went Gold in Canada, sales continually declined with follow-ups, Sophomoric (1997) and Out of Their Heads (1998), in part leading to a very anti-climactic dissolving of the band.
"The actual reason [we broke up] was that our manager [and his record label] basically said he was going to stop paying us," relays McCullough. "He was the Svengali behind the whole thing and I don't know if he was going through financial difficulties or what, but it was him that ended the band. There were definitely other issues going on in the band that could've been addressed, but that was the real reason we stopped playing. It was an odd finish that's for sure."
During the time away, McCullough would continue within the music industry, while, after stops in Costa Rica and Toronto, vocalist Ken MacNeil moved out to Sudbury, ON, and started a family. Original bassist Jim Moore went to the UK, while then drummer John Lalley (who replaced Mitch Perkins, the band's drummer from 1995-98) went back to work and now currently plays with Mamabolo. Essentially, the members of Rusty had moved on.
When the request to reunite was put to McCullough, he notes that re-assembly was rather easy. MacNeil, while far down the highway, was able to get back to town for the big gig. The guys would then be joined by original drummer Bob Vespaziani and bassist John Sutton (formerly of The Weakerthans).
"Out of all of the bands I'd ever played in, Rusty was the easiest of all bands," says McCullough. "You know how bands can be really bitchy and fight and have personality problems? We never had any personality problems and we never fought. We all got along fine, in spite of some stuff that happened that might've made us not like each other. So, getting back together was a breeze."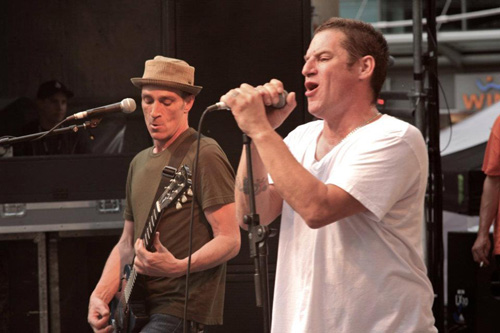 Now the 2013 incarnation of Rusty is gearing up for a pair of year-end gigs at the Horseshoe, but also has its eyes on their 20th anniversary which just so happens to be 2014. McCullough says that the plan is to pump some new life into the band. They may not be what they were way back when, but he's okay with that.
"I'm really into writing and I love recording, so for me the idea of making a new record is a lot of fun…and I'd like to do it," offers McCullough. "That would add a little bit of modernity to the band so that we wouldn't just have to play our old stuff.
"I know we're not going to end up being a full-time band again – we're not going to make our living from playing music again, unless I'm really wrong," he continues. "But, I'd like us to stay active and keep writing and recording. I think that's a possibility…we could put out an album. Then, maybe do the same thing a year or two later and play a reasonable amount of tour dates every year to at least keep this thing going in a way that gets new music out there."
Rusty plays the Legendary Horseshoe Tavern in Toronto on December 27 and 28.
­-Adam Grant
(additional reporting by Jessie Sipione)