Fucked Up Playing Exclusive Shows in Toronto Tonight & Tuesday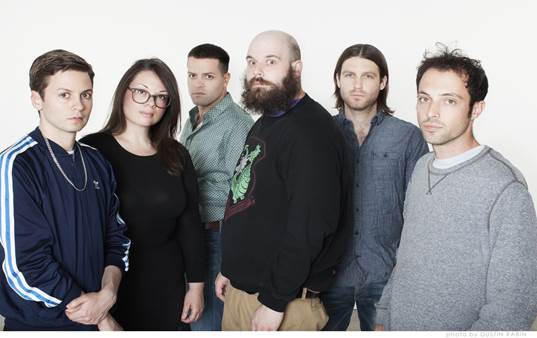 Fucked Up, who released their highly-anticipated new album Glass Boys last week, will play a pair of special album release shows in their hometown of Toronto, ON, today and tomorrow.
Today, they will play a free gig at Sonic Boom Records (782 Bathurst St.) at 7pm, while on Tuesday (June 10), the group will take the stage at The Rivoli (334 Queen St.) at 8pm. Tickets for the latter can be purchased here for $10.
A select number of "Glass Tickets" for the Rivoli show will be available today at Sonic Boom within vinyl copies of Glass Boys. Each ticket will permit one entry into the venue.
On this night, one of the album's engineers, Leon Taheny, will join Fucked Up's Jonah Falco on double drums to simultaneously recreate the standard and slow versions of the album live. As you may recall, the 2LP vinyl deluxe edition of Glass Boys features a slowed down version of the album, in which the drum tracks are at half speed. Falco recorded four simultaneous drum tracks during the recording of the album.
Furthermore, the limited edition Blink 7" will be available at both shows. It features the tracks "Blink" and "The Way We Did," both of which were recorded during the Glass Boys sessions.
Please be sure to follow us on Twitter @riffyou and at Facebook.com/riffyou.