Interview: The Sheepdogs Keep Rolling Right Along

Making the cover of Rolling Stone magazine can be a blessing and a curse. On the upside, you've now officially been placed upon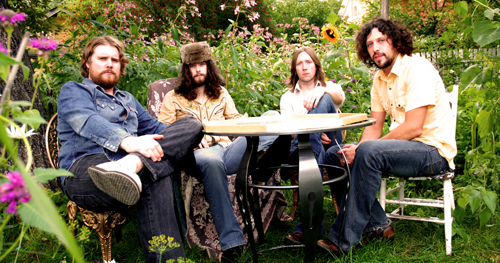 the radar. On the downside, if you slide off of it too hard, your fall is deemed that much more epic.
In 2011, virtual unknowns The Sheepdogs won that publication's inaugural 'Choose the Cover' competition, which instantly landed the hairy rockin' prairie boys more notoriety than they'd ever had before. But most importantly, it also got them a record deal with Atlantic/Warner that would give the band an opportunity to share its interpretation of southern rock-inspired jams with a wider audience.
During a recent interview with Riffyou.com, Sheepdogs bassist Ryan Gullen reflects fondly upon that era. Having been a band for seven years that had up until that point only made enough money to put directly back into the band, the Rolling Stone cover contest struck he and cohorts Ewan Currie (guitar, vocals) Leot Hanson (guitar), and Sam Corbett (drums), as an opportunity to break free from the admirable, yet challenging weekend warrior lifestyle.
"It was a lot really fast – and there were mistakes we made and things we'd like to go back on – but, I think we navigated pretty well," confides Gullen when discussing the transition from the indie days of 2010's Learn & Burn, to the Self-Titled 2012'major label debut. "Part of that is because we'd been a band for so long and knew how to function."
Since coming out victorious, The Sheepdogs have won multiple JUNO Awards, toured with the likes of John Fogerty, and been presented with a classic jacket worn by Randy Bachman on the cover of the Brave Belt I album. They've also managed to take a sound that feels more suited for adult, or classic rock radio stations, and made it jive with new rock and indie audiences. Yet somehow, the masses – us included – can't help but continually think about the Rolling Stone cover that led into all this.
"I think we're always going to be associated with that contest," concedes Gullen. "But at the same time, it would've been very easy for us to win that thing and put our feet up. We took a route that resulted in getting into the spotlight very quickly – to the general public – because we'd been a band for seven years at that point. But, you can't shy away from the fact that that helped propel us to more success.
"We had to make records and play shows…and play good shows [after that]," he continues. "In a lot of situations, other bands could've very easily done the complete opposite and just disappeared, as there is a lot of work involved."
That work, recalls Gullen, included the band jumping off of the road to record their Self-Titled album with Patrick Carney (The Black Keys) in 14 days, then jumping back onto it after the 14 tracks were down on tape.
"The major label machine has its benefits and has things that may be a little out of our comfort zone," says Gullen. "But, at the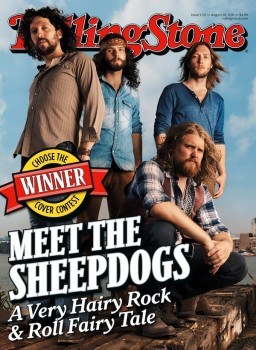 same time we were able to navigate that. A lot of that came from the fact that we'd been writing songs together for a long a time, and we'd been touring and playing for a long time.
"I think we were already somewhat established in terms of our sound, what we did, and how we did things," he adds. "I think that allowed us to have a little more freedom with the major label."
What's important for The Sheepdogs now – at least from the outside looking in – is that the next album helps take the band further down the road of solidifying them as a strong Canadian rock entity, as opposed to just that band that happened to get its foothold on the mainstream thanks to a magazine cover.
Let's face it. The musical chops are there; the hooks are infectious; and judging by our conversation with Gullen, there isn't enough scary ego going on here to believe that the band will crumble as it continues to make new music.
Gullen says that the band is currently working on its forthcoming album in a Saskatoon, SK, rehearsal space/studio they've come to use. The tracks are still in the early demoing stages, with full-blown recording not likely to begin until the autumn. If what we've heard holds true, expect The Sheepdogs to dip back into their roots in order to push ahead with the future.
"We are rooted in what we like and will always make the music we want to make, or hear," relays Gullen. "Trends change and times change, but we're always going to continue doing our thing, or change what we're doing on the account that it may, or may not be popular. We feel it's important to have that integrity as an artist."
-Adam Grant
Please be sure to follow us on Twitter @riffyou and at Facebook.com/riffyou.
Tour Dates:
| | | | | | |
| --- | --- | --- | --- | --- | --- |
| Jun 12 | Burlington's Sound of Music Festival | Burlington, Canada | | | |
| Jun 20 | Ottawa Dragon Boat Festival – Mooney's Bay Park | Ottawa, Canada | | | |
| Jun 22 | Beaumont Blues and Roots Festival | Beaumont, Canada | | | |
| Jun 27 | Kee to Bala | Bala, Canada | | | |
| Jun 28 | Scene Festival Montebello Park | Saint Catharines, Canada | | | |
| Jul 01 | Edgefest Summer Concert Series – Echo Beach | Toronto, Canada | | | |
| Jul 04 | The Slave Lake Inn & Conference Centre Field | Slave Lake, Canada | | | |
| Jul 09 | Cowboys | Calgary, Canada | | | |
| Jul 11 | Winnipeg Folk Festival | Winnipeg, Canada | | | |
| Jul 18 | East Coast Garden Party | Grande Prairie, Canada | | | |
| Jul 25 | The Gateway Festival – Bengough Regional Park | Bengough, Canada | | | |
| Jul 30 | Shore Fest | Vancouver, Canada | | | |
| Aug 01 | Rockin the Fields | Elphinstone, Canada | | | |
| Aug 02 | Harbourfest | Kenora, Canada | | | |
| Aug 16 | Salmon Arm Roots and Blues Festival – Salmon Arm Fairgrounds | Salmon Arm, Canada | | | |
| Aug 22 | Kitchissippi Music Festival | Foresters Falls, Canada | | | |
| Aug 23 | Confederation Landing Park | Charlottetown, Canada | | | |