Getting to Know: Aussie Indie-Pop act, Tully on Tully

In today's Getting to Know, we meet Tully on Tully, an Australia-based indie-pop collective that finds itself comparable to the Yeah Yeah Yeahs. If you are in an up and coming band that would like to partake in a Getting to Know feature, contact [email protected] to receive the questionnaire and instructions. Thanks!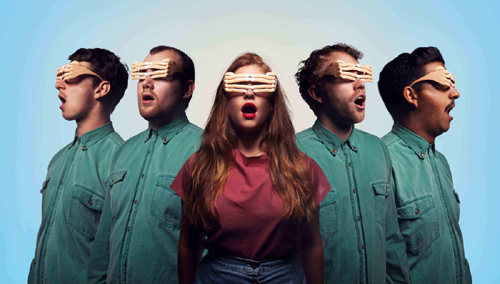 Band Name: Tully on Tully
Band Members: Natalie (vocals), Pete (keys), Iain (bass), Frank (drums), Greg (guitar)
Years Active: 3
City of Origin: Melbourne, Australia
Who are you and what do you do?
"We're Tully on Tully, a five-piece indie pop band from Melbourne. We write and play music that we like, with the hope that others like it too."
In 100 words or less, tell us how your band has gotten to this point.
"Three of us (Nat, Pete, Iain) met while studying music a few years back, and started jamming together and writing a few pieces here and there. Natalie won a song writing competition and the band formed. A year later, Greg and Frank joined the team and we released our first single, "Hard to Breathe." From that point, our sound developed dramatically and we released our debut EP in 2013 followed by a national tour in Australia. We did a tour in Asia which included Manila's Wanderland Festival, and then this year we made our North American debut for Canadian Music Week."
What is your latest release and how would you best describe it to someone who hasn't heard your band?
"Our debut EP is called Weightless, and we'd describe it as a summary of our musical style up to that point. It showcases quiet and ambient soundscapes to rocking guitar riffs and infectious pop-rhythms, juxtaposing Natalie's dark lyrics with deceptively bright and catchy melodies."
When making an album, which aspect of the process do you put the most time into and why?
"We put the most effort into the construction of the songs. Often the simplest songs are those that we have put the most time into arranging. From there we make high-quality demos relatively quickly, so we can get into the studio and record our parts with minimal stress and maximum preparation. We feel that we don't want to be wasting time during recording with endless tweaking and arranging, so by putting the majority of effort into the songs prior to that, we can get in and out and not waste time."
What is the best part about your band and why?
"So far, the best thing has been travelling to parts of the world that none of us have been in order to play shows. There's really nothing quite as exciting as coming to a new country and having the privilege to do what we do while there."
What makes your band unique from the rest?
"We all have fairly diverse musical backgrounds; ranging from electronic and metal to jazz and classical. I think that gives us a unique perspective on song writing and arranging, as we have a greater pool of influences to draw on, while also attempting to create something that we find truly original."
How does your band survive the challenges of touring/gigging?
"We've learned to make time for ourselves as individuals, as being in close quarters with each other for extended periods can get intense. We also act like a bit of a family. If there are any issues or arguments, they always blow over almost immediately and we're laughing again soon afterwards."
Would you rather be critically-acclaimed; rich and famous; or an under-the-radar band with a dedicated fan base?
"I suppose a mixture of all three. Fame doesn't appeal much, but the ability to live a financially stable life doing what we're doing – while both being recognised by our peers and having a devoted fan base – would be the dream. If I had to choose, I'd say critically acclaimed, as that would presumably open up multiple opportunities for us to explore that we would not otherwise have the chance to do. It also suggests some kind of stability!
If you'd have to compare your band to another one out there, living or dead, who would it be and why?
"The Yeah Yeah Yeahs. We'd love to be compared to them in any way. Our strong female vocalists are comparable, with a sometimes grungy and sometimes rocky backing sound."
Which band/musician would you like to share many drinks with? What would you talk about?
"We'd love a good session with Grizzly Bear. We're all huge fans, but we'd try and steer clear of musical conversations and probably try to solve the world's problems over a few beers."
Please be sure to follow us on Twitter @riffyou and at Facebook.com/riffyou.