Getting to Know: California Alt-Punk Band, City By Storm

In today's edition of Getting to Know, we meet up with California alt-punk City By Storm, whose frontman Wade Fitzgerald would love to have the same intense stage presence as Henry Rollins and Iggy Pop. If you are in an up and coming band that would like to partake in a Getting to Know feature, contact editor@riffyou.com to receive the questionnaire and instructions. Thanks!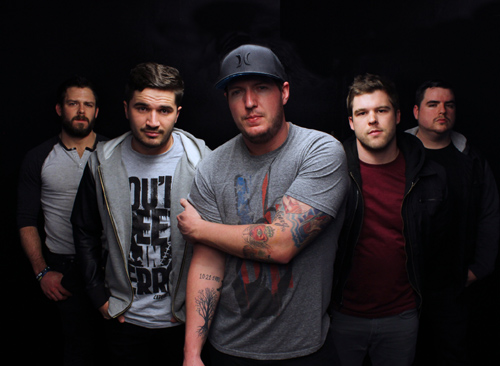 Band Name: City By Storm
Band Members: Wade Fitzgerald (lead vocals), Taylor Warren (guitar, vocals), Keegan Gogerty (lead guitar), Andrew Johnson (bass), and Matt Zavala (drums).
Years Active: 7
City of Origin: Newport Beach, CA.
Who are you and what do you do?
"I'm Wade and I sing in the band."
In 100 words or less, tell us how your band has gotten to this point.
"My dad always told me 'persistence rules.' I started this band when I was 18 and the first few years had a lot of trial and error, but eventually I found a group of guys that felt that same way I did. Giving up when things got hard would have been too easy I guess. Now, I have four dudes by my side that are my best friends and amazing at what they do."
What is your latest release and how would you best describe it to someone who hasn't heard your band?
"Our last EP was called Vultures, which we have two music videos out for, but right now we are finishing up Weight Of The World with Billy Klein at Hybrid Studios in Santa Ana, CA. We are so stoked to finally get these songs out there. I think a lot of people get a taste of nostalgia when they hear our music or see us live. Being in Orange County, there are a lot of indie, folk and electro bands, but we grew up listening to bands like Boy Sets Fire, AFI, Pennywise, Rise Against, and Blink-182, and we truly do our best to stay true to our roots."
When making an album, which aspect of the process do you put the most time into and why?
"Writing seems to come easy to us, but production seems to always feel like the longest process to us. It's just a lot of build up getting to that point and I don't think any musician is ever 100% satisfied with their tracking before going into production. I guess that's the 'artist' in us? Plus, hearing every imperfection in your voice really puts a dent in your ego, ha ha!"
What is the best part about your band and why?
"Our promo videos…100%. Keegan and Andrew are both actors/filmmakers and extremely talented. We tend to try to take our promo videos as far as we can without getting angry letters from parents. But, I think we may have taken one too far last year for our House Of Blues, Anaheim, show. You can Google it, but don't say I didn't warn you."
What makes your band unique from the rest?
"[Probably] the fact that we really stand-alone here in Orange County with the style of music that we play. But, we literally play with everyone around here. We did an acoustic show with Everlast a few months ago, a punk show with Unwritten Law last month, then we even played with the 70s rock legends, The Tubes, last month. The response we received from the crowd at all three shows was incredibly humbling considering they are all completely different genres."
How does your band survive the challenges of touring/gigging?
"When I was younger, we would just book shows in different cities, states and just leave. Now, we need to be a little more business savvy and make sure the time is right and it makes sense financially. We are in our mid 20s with a lot of bills to pay, kids, and mouths to feed. Recently, we have been very fortunate that some more popular bands that have taken interest in us and there's [now] a few things in the works…fingers crossed!"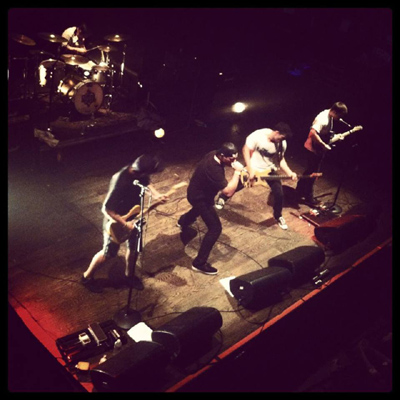 Would you rather be critically-acclaimed; rich and famous; or an under-the-radar band with a dedicated fan base?
"Easy, the latter. I'd much rather have a group of people that our music actually reaches on a more personal level. Nothing bothers me more than fair-weather fans. We don't write songs to get on the radio or to get on TV commercials – we write songs hoping that it will help someone get through a difficult time, or maybe encourage someone to be a little more open minded towards certain things. We could write songs about getting fucked up and partying, but our songs aren't written for people that want to fist pump on molly."
If you'd have to compare your band to another one out there, living or dead, who would it be and why?
"I guess the most relevant bands we get compared to are Rise Against and Bad Religion. I think it's just the energy we put into our live shows. Although we are more melodic alternative/punk, I would love people to view us the same way I viewed [Henry] Rollins in Black Flag. Just watching videos of that guy gives me chills, and I want to be able to captivate people in a way he did, or the way Iggy Pop did. They are both in way better shape, more talented and angrier than I am, but if we can give people a small taste of that feeling I got from watching them when they watch us, then we did our job."
Which band/musician would you like to share many drinks with? What would you talk about?
"I'd really love to sit down with Mike Ness (of Social Distortion). He is the reason I ever picked up the guitar and the reason I wanted to be a frontman. His song writing is amazing. The stories the guy can cram into four minutes of rock n' roll are incredible. I think I can learn a lot from him on a personal level as well."
Please be sure to follow us on Twitter @riffyou and at Facebook.com/riffyou.