Hamilton's Casbah Lounge Bids Adieu with 3 Secret Shows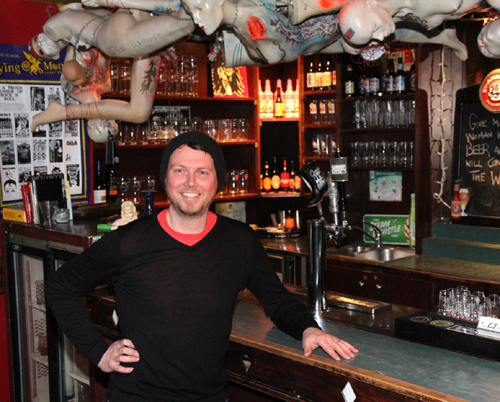 Located at 306 King St. W. in Hamilton, ON's downtown core, The Casbah has been a popular gathering spot for the city's plentiful music community and out-of-towners looking to get close to bands of all shapes and sizes.
In 2004, William "Brodie" Schwendiman took over the managerial duties of the venue, before taking over ownership of it by the end of the following year. Within the space, Schwendiman had a main room comparable to the size of Toronto's Horseshoe Tavern, as well as an attached, relatively untapped lounge space. Over time, this more intimate area – known as the Casbah Lounge – evolved from a DJ-centric performance spot, to one that eventually welcomed bands, including the likes of Monster Truck, The Sheepdogs, July Talk, as well as countless local acts.
This week, however, will spell the end of the Lounge's nine-year run. In a move that'll afford Schwendiman more family time and the ability to potentially attract more business to The Casbah's main room, the space has been sold off to a personal friend, someone described as familiar to those in the local music community. Until all loose ends are tied up, her identity and complete plan for the space will remain under wraps.
"The Casbah clientele that enjoyed what it was before, is definitely going to enjoy what it's going to become," says Schwendiman of the Lounge space. "We wanted to make sure that whoever [took over the room] was going to do something that jived with our clientele. What she has planned, sounds to us like it'll make The Casbah – as a concert hall – more money. What she's planning to do will draw people to The Casbah location earlier in the night and potentially keep them later after the shows."
Schwendiman doesn't believe that live music will be the focal point of that room, but isn't willing to say that artists won't have a stage to perform upon. Renovations to the Lounge are expected to run through March, making April or May likely kickoff months for the new venture.
"It's not as simple as putting new paint on the wall," jokes Schwendiman.
In the meantime, the changeover is expected to increase the number of shows in which The Casbah's main room hosts. Schwendiman envisions gigs running seven nights a week, something that was a very familiar thing for the venue years ago.
This week, The Casbah Lounge will present a trio of secret shows. Tuesday, Wednesday and Friday are the nights, with tickets available for $10 a shot. Tickets for Tuesday and Wednesday are still available online, with a select number up for grabs at the door. However, those wanting to attend the Friday date will have to rely on having luck at the door.
"I've always been very conscious of how my business is managed when others get involved. I typically book shows myself without many outside promoters…I've been really hands-on over the years. So, it was a tough [decision]," replies Schwendiman in regards to how challenging of a decision it was to pass on the Lounge. "But on the other hand, I'm getting older. I have three kids and I'm trying desperately to operate the business in a way that doesn't completely consume me, so that I have time for things at home."
-Adam Grant
-Photo by: Tara Smith
Please be sure to follow us on Twitter @riffyou and at Facebook.com/riffyou.