Getting to Know: Country-fried Rock act, The Vanishers

In this edition of Getting to Know, we meet Burlington, ON, country-fried rock n' rollers, The Vanishers. They aim for a full sound, and wouldn't hestitate about harming someone else in the band with exotic fruit. If you are in an up and coming band that would like to partake in a Getting to Know feature, contact editor@riffyou.com to receive the questionnaire and instructions. Thanks!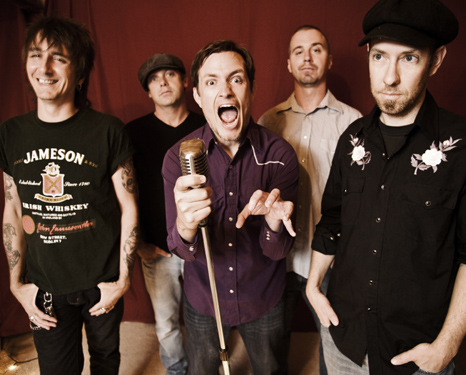 Band Name: The Vanishers
Band Members: Paul Pengelly (lead vocals), Gary Kuiper (lead guitar, vocals), Spider (drums, vocals), Paul Mcgrath (rhythm guitar, vocals), and Gerry Schaefer (bass, vocals)
Years Active: 5
City of Origin: Burlington, Ontario
Who are you and what do you do?
"I am the lead guitar player Gary, and I play….er…the lead guitar. I also sing backups and randomly shout out stuff throughout our set."
In 100 words or less, tell us how your band has gotten to this point.
"Paul and I have known and played with each other in bands since high school. Our last band dissolved about five or six years ago and we decided to form our dream band. We wanted it to be guitar-oriented heavy twang, with lots of pop backup vocals. We found some talented likeminded people and had a couple small lineup changes, but eventually ended up with something we couldn't be happier with."
What is your latest release and how would you best describe it to someone who hasn't heard your band?
"Hagersville Dance Party was our last release (2011). It has 13 songs about women and one about road kill. It's rock with a dusting of outlaw country and rockabilly. It made some college radio charts and did well…even a little commercial radio. We feel there is still quite a bit of material on this album that needs to be heard, so we still promote it hard while thinking of the next album."
When making an album, which aspect of the process do you put the most time into and why?
"Like making a cake, if you leave out one of these ingredients (song writing, production, etc.) then you won't get the cake you want. I love cake. We take our time with song writing and production to get it as top shelf as possible. We also have fun creating the videos to push the cake. Er…album!"
What is the best part about your band and why?
"The comradery. It feels good playing with great musicians, but if someone is a Larry in the band then it sucks the energy out. No Larrys in The Vanishers. Two Pauls, but no Larrys."
What makes your band unique from the rest?
"I think what separates us from other bands is we sound very full. We take backup singing and harmonies seriously – as well as making sure the guitars are not both playing the same damn thing."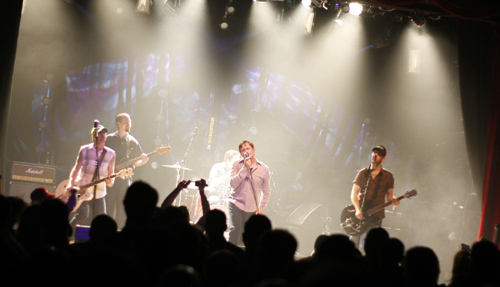 How does your band survive the challenges of touring/gigging?
"The best way we survive is strategically selecting our shows. If we got in a van and headed out across North America, there would be a knife fight or someone would beat someone with an exotic fruit or something. We opted to try to tour online with videos via social media and play locally selected venues."
Would you rather be critically-acclaimed; rich and famous; or an under-the-radar band with a dedicated fan base?
"If I had to pick, I'd say critically acclaimed. You can't be richer than feeling like you produced something special to the critics. Wait, I take that back. Rich and famous. Who cares what the critics think? How about just rich? Yes, just rich for this Larry."
If you'd have to compare your band to another one out there, living or dead, who would it be and why?
"Put maybe The Living End, Old 97's and Social Distortion in a blender. If you like these bands then you are sure to like The Vanishers."
Which band/musician would you like to share many drinks with? What would you talk about?
"Elvis. I would ask where he has been hiding and why. I would tell him Graceland needs a reno desperately. Then, I would jam with him over some peanut butter banana sandwiches and Mojitos in the jungle room. That would be great. I hope he reads this."
Please be sure to follow us on Twitter @riffyou and at Facebook.com/riffyou.