Q&A: Zakk Wylde on Jazzercise, Going Acoustic, and Ozzy

The image of Zakk Wylde shredding the solo in the video for Ozzy Osbourne's 1991 hit "No More Tears," is still as fresh to me now as it was nearly 25 years ago. Wylde was just 24 then, having become Osborne's lead guitar slinger just four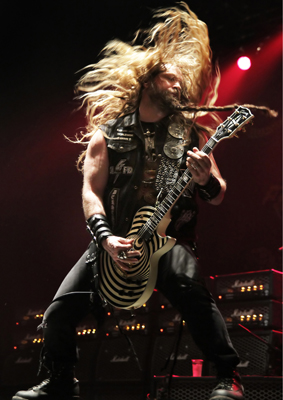 years earlier.
During, and since that time, Wylde has gained a reputation as of one this era's great rock n' roll guitarists. He's also a steady joker with a personality that is far kinder than his big-bearded, badass biker look would suggest.
Starting February 13, Wylde will roll down to Canada for his acoustic "An Evening with Zakk Wylde" tour, as he readies the April release of his new Black Label Society album, Catacombs of the Black Vatican.
Ahead of both ventures, Riffyou.com got Wylde on the line for a gut-busting good time.
Zakk: "What's happening brother?"
RY: We're just trying to stay warm up here in Canada – it feels like the arctic out there!
Zakk: [Laughs] "What are you saying? It's not man-thong weather right now?"
RY: Well, that really depends on the girth of your thighs. We look forward to you venturing up to Canada this month.
Zakk: "Thanks man, we always have a good time when we're up there."
RY: Why did you choose to bring this acoustic show to us?
Zakk: "We did a short east coast run and a short west coast run, and in between writing the new record and coming up with a cure for cancer; and then world peace; and then hunger; I figured, why not do a run [of shows] for our Canadian family?" [Laughs]
RY: What is it about these acoustic performances that intrigues you?
Zakk: "For me, as I much as I love listening to Led Zeppelin do "Black Dog," I love it when they do "Going to California." It's a different side of us, instead of doing the heavy thing all the time. As a musician, I love jamming. There's also more improv going on with this stuff. Every time we do one of these shows, everyone has a blast. We jam,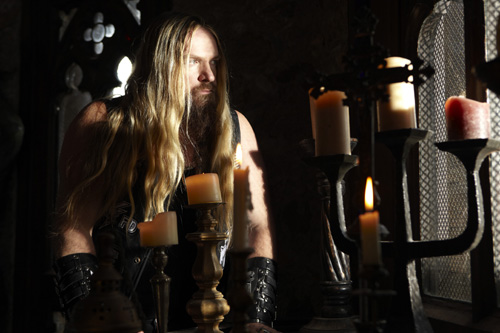 then we take a break for a little bit and I tell a bunch 'bringing metal to the children, George Carlin on steroids' stories. Then, we laugh our balls off, jam a bit more, and hang out with our Black Label Society family."
RY: So the new Black Label Society album is coming out in April. What can you tell us about it?
Zakk: "This album is probably our most fierce dance record to date. I'd imagine burning more calories to this record than any previous Black Label Society album. Not only that, this album will make you realize that exercise and jazzercise should never be this fun and exciting!" [Laughs]
RY: Are you saying this because you made a jazzercise video for one of the songs?
Zakk: "Yes. Not only is it calorie-burning…it's fun. It's straight up fun!"
RY: Basically, you're saying it's been influenced a little bit by Daft Punk or something like that?
Zakk: "Nah, I go back to Olivia Newton-John's 'Let's Get Physical.' But earlier, and more raw." [Laughs]
RY: Hey man, if you have the leg warmers, I won't ask you any more questions…
Zakk: "We have them coming out as well – the Black Label leg warmers…with the tights!"
RY: I have to ask you a bit about your time with Ozzy. During those early days with him, did it take you a while to adapt to the magnitude of the situation of joining such a force?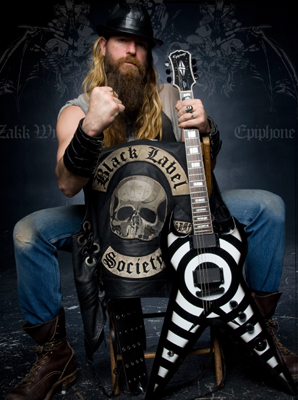 Zakk: "There was definitely a magnitude to it. It would be like you being a hockey fan all of your life and then playing for the Montreal Canadiens. You were a fan of theirs, and now you're playing where all of the hall of famers played, and it's your job to keep bringing titles to the Canadiens. When I joined the band – obviously I loved Ozzy and Sabbath and I [started] playing in the same spot as Randy Rhoads…I wasn't overwhelmed, but more grateful and thankful for [the opportunity]."
RY: A lot of people see the Ozzy on stage; the Ozzy on album; as well as the Ozzy in interviews or reality TV. What aspect of Ozzy do you really appreciate that maybe not a lot of people get to see?
Zakk: "His heart is bigger than his body. He's just a great person…and beyond funny. If you hang out with him for five minutes, you'll be laughing your balls off. He makes fun of himself all of the time and takes the piss out of everything else."
-Adam Grant
Stay tuned for 5 Very Metal Questions with Zakk Wylde!
Please be sure to follow us on Twitter @riffyou and at Facebook.com/riffyou.