Getting to Know: Eclectic Hamilton Rockers, The Zilis

In today's Getting to Know, we meet The Zilis, an eclectic rock trio that doesn't allow a set list to dictate their performance. If you are in an up and coming band that would like to partake in a Getting to Know feature, contact editor@riffyou.com to receive the questionnaire and instructions. Thanks!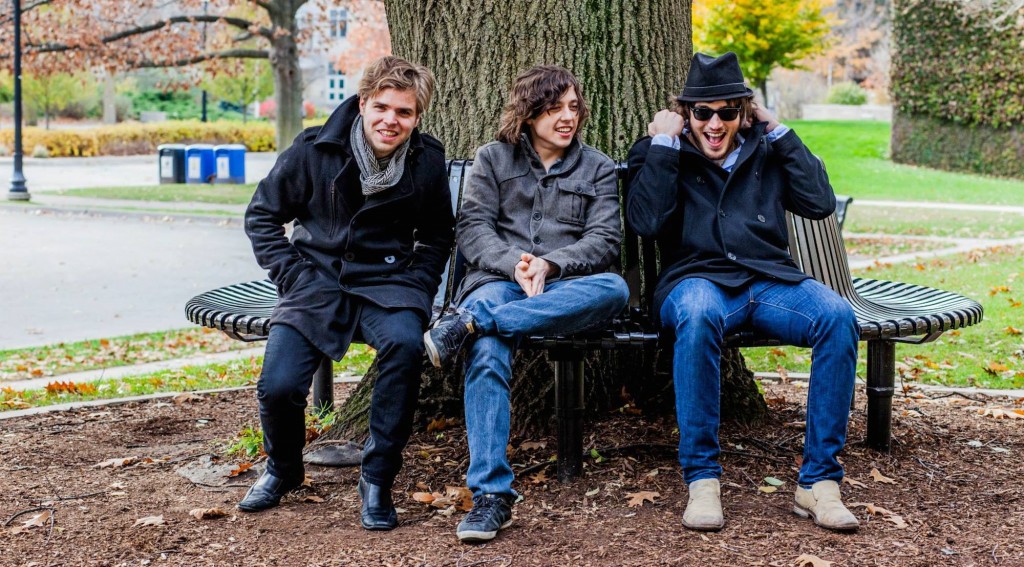 Band Name: The Zilis
Band Members: Justin Bozzo (vocals, bass, guitar), Zander Lamothe (drums, vocals), and Sean Royle (vocals, guitar)
Years Active: 2
City of Origin: Hamilton, Ontario.
Who are you and what do you do?
Zander: "The Zilis are a three-piece rock and roll band based out of Hamilton, Ontario."
In 100 words or less, tell us how your band has gotten to this point.
Zander: "Originally, we were a cover band called The Led Hot Zili Peppers. We formed to pay off the debts of our previous band, Dean Lickyer, but when the singer of that band left, we decided to keep playing together as a three-piece. Sean and Justin ended up sharing vocal duties and we started working on original tunes as The Zilis for our first release, Sketches. Fast-forward a couple years, a few hundred shows, and a couple of albums later and we're still going strong. We toured the United States a little while ago and now we've been working on some new music videos. We also have a new album on the way."
What is your latest release and how would you best describe it to someone who hasn't heard your band?
Zander: "We released our latest album in February of last year and it's called Sketches II. I would describe our sound as rock and roll with splashes of other musical influences."
When making an album, which aspect of the process do you put the most time into and why?
Sean: "We put a lot of time into each and every step of the process, but I'd say production usually takes the most time out of the three. The songwriting happens first with someone's idea. Usually the writer will play it for the band and then we'll start jamming it out. Once we all get a feel for the song, we spend countless hours producing it, getting it to sound exactly the way we want. For us, producing is keeping the listener interested and excited. We think it's very important. Depending on how you arrange and produce a song, you can make a simple chord progression sound very interesting."
What is the best part about your band and why?
Sean: "We have a diverse collection of songs. There's a nice variety on Sketches I and II. Both albums are influenced by a lot of genres – from folk to jazz to blues to R&B. At the end of the day they're Rock and Roll albums, but I think drawing from different styles keeps each song very unique and keeps people interested in our music."
What makes your band unique from the rest?
Sean: "Our live show is mostly improvised. We've played a lot of shows with each other and it's made us comfortable on stage together and aware of the direction a song or jam is headed. During a live show we like to take our songs to a place that's a little different from the way we do it on the album. I find that it keeps the performance exciting and the audience interested. We rarely ever have set lists written up because we like to go with the flow and feeling we get from the audience."
How does your band survive the challenges of touring/gigging?
Justin: "We don't really think of touring as some grueling thing to tell you the truth. We've been playing together for a long time and we enjoy each other's company, so that helps. But, we don't mind sleeping in the van or playing shows after long drives. Those things are all part of the experience. It's something we look forward to."
Would you rather be critically-acclaimed; rich and famous; or an under-the-radar band with a dedicated fan base?
Zander: "All of us would prefer to be a band with a devoted fan base, regardless of whether fame and riches come with that or not. I think you should be wary of your only goal being to seek fame – but you also shouldn't look a gift-horse in the mouth. Like Napoleon said, 'Glory is fleeting, but obscurity is forever.' Our goal is to create music we love and hopefully people will end up liking it as much as we do."
If you'd have to compare your band to another one out there, living or dead, who would it be and why?
Sean: "Maybe The Band. I'm not saying we sound exactly like them, but I think we're similar because of the constant gigging and touring we do. We're influenced by a wide variety of genres like they were. We also don't have a set 'lead singer' in the band."
Which band/musician would you like to share many drinks with? What would you talk about?
Sean: "It'd have to be The Rolling Stones. They're just so legendary. I'd have a million questions for them about their past and what it was like for them. It'd be a long conversation!"
Please be sure to follow us on Twitter @riffyou and at Facebook.com/riffyou.