Getting to Know: Experimental Rockers, Morakoza

In today's Getting to Know, we meet Morakoza, a Toronto-area experimental collective  that's sound has been described as a combination of Arctic Monkeys and Kendrick Lamar. If you are in an up and coming band that would like to partake in a Getting to Know feature, contacteditor@riffyou.com to receive the questionnaire and instructions. Thanks!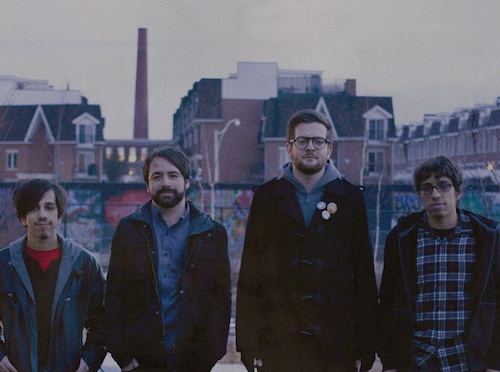 Band Name: Morakoza
Band Members: Dragan Maricic (vocals, guitar), Matthew Vultaggio (guitar, vocals), Phil Witmer (bass, keys), and Lukas Witmer (drums).
Years Active: 0.5
City of Origin: Mississauga, ON.
Who are you and what do you do?
"We're a group of four ambitious musicians and songwriters that try to push ourselves to explore different sonic territories through genre bending. We're fans of many different types of music, and we try to incorporate stylistic elements that interest us, while also providing our own signature spin on our sound."
In 100 words or less, tell us how your band has gotten to this point.
"We're a relatively young band in terms of how long we've been together, but we've been steadily releasing singles online since the beginning. We're big on collaborating with other local artists in the Greater Toronto Area (GTA), which has helped us branch out and meet new creative individuals that have helped us grow artistically."
What is your latest release and how would you best describe it to someone who hasn't heard your band?
"Our latest release is a single called "Free Pistonhead." It is part of our just released Society EP. The EP is a conceptual endeavor in which each song is collaboration with other songwriters, producers, and musicians. One person who came to our last show at the Garrison said that our music is a mixture of Kendrick Lamar and The Arctic Monkeys. We all really love that comparison, and feel that it's an accurate description of our sound."
When making an album, which aspect of the process do you put the most time into and why?
"All aspects of trying to create and put out music take a substantial amount of time, or no time at all. Songwriting sometimes happens in one rehearsal, sometimes over the course of a few rehearsals. Rehearsing is always done a few weeks in advance of shows, or when we try to approach writing a song by bouncing ideas off each other. Production is actually the most interesting aspect because we record, mix and master all of it ourselves. We try to set deadlines for our releases so that we stay fresh not only to our listeners, but for ourselves as well."
What is the best part about your band and why?
"The best part is having an environment in which the four of us can present new ideas without having to worry about having to fit some sort of formula or stereotype. We obviously fit into an aesthetic, but it's an aesthetic that we have all to ourselves. That being said, instead of trying to solely create a solid band, we try to create an artistic collective compromised of all types of artists: from musicians, to photographers, to filmmakers, and beyond. The best part is building something more than just one singular and isolated thing."
How does your band survive the challenges of touring/gigging?
"Touring is very new to us, so new that we haven't done it yet. We plan to hit the road before the summer ends, and our biggest challenge is just having to find our way into new music scenes. Luckily, we have friends from around the country that we look forward to playing with in other cities. Gigging in Toronto has been interesting, so far we've had decent turnouts to our gigs and have met some great people too. We're working on doing bigger and more interesting performances whenever we get the chance."
Would you rather be critically-acclaimed; rich and famous; or an under-the-radar band with a dedicated fan base?
"We think that having a dedicated fan base is more important because, realistically speaking, what's the point of working towards making great music without having anyone listen to it and enjoy it? Some of our favourite artists and bands have huge followings, but have never won a Grammy or even been nominated for one. They sell out stadiums or clubs and continue to make great tunes, but never get a trophy for it. Our music is made for people to enjoy and think about. If they like it, then becoming 'critically acclaimed' or 'rich and famous' should follow after the fact. The first two choices are goals that bands have to really work towards, or be incredibly lucky to achieve."
If you'd have to compare your band to another one out there, living or dead, who would it be and why?
"We would not be able to compare ourselves to one band, but we can safely say that we gather huge influence from many different bands and artists such as Foals, Disclosure, Kendrick Lamar and Kanye West. We are also heavily influenced by local artists such as Spek Won, Lord Quest, Badbadnotgood, and Hungry Animals."
Which band/musician would you like to share many drinks with? What would you talk about?
"Daft Punk. Even though there would be a lot of beeping and bopping, it would become really emotional and filled with drunken text messages."
Please be sure to follow us on Twitter @riffyou and at Facebook.com/riffyou.