Getting to Know: Female-Fronted Arizona Rockers, Eclipses for Eyes

In today's Getting to Know, we meet female-fronteed Arizona rockers Eclipses For Eyes, who, despite certain comparisons, find themselves to be more Foo Fighters than Paramore. If you are in an up and coming band that would like to partake in a Getting to Know feature, contact editor@riffyou.com to receive the questionnaire and instructions. Thanks!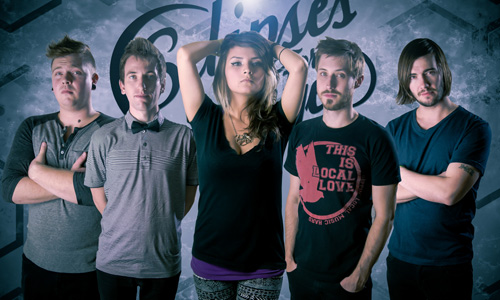 Band Name: Eclipses For Eyes
Band Members: Lexi Salazar (vocals), Cameron Dartt (guitar), Allen Zettel (guitar), Dustin Yoes (drums), and Alex Cardwell (bass)
Years Active: 2
City of Origin: Tempe, Arizona
Who are you and what do you do?
"Eclipses For Eyes is a five-piece female-fronted alternative rock band from Arizona. We create music that we hope inspires ourselves and others!"
In 100 words or less, tell us how your band has gotten to this point.
"Basically, Cameron and Allen were writing music and were looking for a singer. Meanwhile, Lexi was living in another city and wanted to write music with a different set of people in a new place. They both posted ads in a Facebook group for Arizona musicians and started talking. One day Lexi invited Cameron over as a joke, but he said yes and went to her house where they wrote two songs. Happy with the songs, Lexi moved to Phoenix. They recorded with David Ludlow and later found Dustin and Alex."
What is your latest release and how would you best describe it to someone who hasn't heard your band?
Our newest release titled, Letters, has only recently been released for digital distribution. It is available on iTunes, Amazon mp3, Spotify, I heart Radio and other online stores. The music was produced by Matt Good (From First To Last/D.R.U.G.S.), and David Ludlow (Greeley Estates). Mastering was done by Joey Sturgis. It has a Mix of edgy alternative rock, with electronic atmosphere, followed by powerhouse vocals!
When making an album, which aspect of the process do you put the most time into and why?
"We will usually spend most of our time writing the basic structure of our songs, making sure every part fits together the best way we can imagine. After we have decided that the song is ready to begin production, we will spend even more time adding layers upon layers to best convey the original idea."
What is the best part about your band and why?
"Our music and lyrics are honest and personal, which is something that we find is normally neglected in most modern music."
What makes your band unique from the rest?
"Mostly every member is from a different age group with different musical backgrounds ranging from classical to heavy influences…also, Lexi is only 4'11!"
How does your band survive the challenges of touring/gigging?
"All negative energy and stress from daily challenges are taken out in our performance. Playing shows is an amazing, therapeutic, and healthy outlet. There are no bad feelings that can't be relieved by performing!"
Would you rather be critically-acclaimed; rich and famous; or an under-the-radar band with a dedicated fan base?
"The goal we have for our music is to change lives. Whether we're playing a rock show in a basement, or a sold out arena doesn't exactly matter. As long as every person attending feels accepted, we'll take either!"
If you'd have to compare your band to another one out there, living or dead, who would it be and why?
We are often com-paramored, but we feel like we are closer to Foo Fighters due to our rock and roll guitar parts and edgy vocals with a hint of angst. Perhaps you could call us Para-core?"
Which band/musician would you like to share many drinks with? What would you talk about?
"Foo Fighters!  Dave Grohl is an artist that all five of us appreciate and look up to. We would talk about everything from song writing to puppies!"
Please be sure to follow us on Twitter @riffyou and at Facebook.com/riffyou.