Getting to Know: Metal Man Tracy Towns

In today's Getting to Know, we meet Illinois-based Tracy Towns, the one-man metal machine! If you are in an up and coming band that would like to partake in a Getting to Know feature, contact editor@riffyou.com to receive the questionnaire and instructions. Thanks!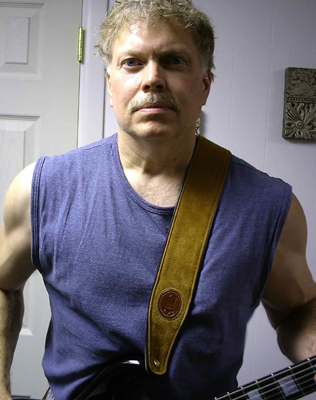 Band Name: Tracy Towns
Band Members: Tracy Towns (guitar, bass, occasional keyboards, as well as doing the vocals)
Years Active: 20+
City of Origin:  Peoria, IL
Who are you and what do you do? 
"I am a rock/metal songwriter, guitarist, bassist, vocalist (and occasional keyboardist) creating original music and recording it in my studio. I create music for purchase (iTunes, Amazon, etc.) and for licensing through Music of the Sea, Inc. A couple of sports networks have licensed some of my music for use.  I also have done mixing and mastering in my studio for other bands, as well as designing album covers.
In 100 words or less, tell us how your band has gotten to this point. 
"I played in bands in the past, but being able to create music in my own studio became a more convenient way to create new music. The work schedule at my full-time job made it difficult to schedule things with a band. Having a studio allows me to write and record around my schedule when I have time. I also spent a year working a weird shift, so I would record a new song every week – in the middle of the night – to put on YouTube on my days off. That was great song writing/recording experience."
What is your latest release and how would you best describe it to someone who hasn't heard your band? 
"My latest release is It's Only Metal! It has a classic metal sound, but there are a lot of different influences and things going on. It is definitely guitar riff driven."
When making an album, which aspect of the process do you put the most time into and why? 
"Production is where I spend the most time. I really enjoy the recording process as well as the engineering side of it (mixing and mastering). My favorite part is improvising guitar solos. I don't ever have them totally mapped out when I start recording. I usually just have a general idea about where I want to go with it. There is nothing more fun than shredding on an improvised solo!"
What is the best part about your music and why?
"Right now the best part is that I can do what I am doing when it is convenient and I have some time."
What makes your music unique from the rest? 
"I have a blend of styles influenced by a lot of heavy bands. I am probably the only hard rock/metal guitarist who never uses a pick. I started out as a bass player and just never liked using a pick once I learned guitar. I have figured out a unique way of playing, so I can do some serious shredding without a pick. I guess things like that are what happens when you teach yourself!"
How does your band survive the challenges of touring/gigging? 
"That really hasn't been an issue since I haven't been in a band recently."
Would you rather be critically-acclaimed; rich and famous; or an under-the-radar band with a dedicated fan base? 
"I don't really care about being famous. I would just like to make enough money with music to not have to work another job if I didn't want to. If I could generate enough of a fan base to accomplish that along with licensing some music for use, that would be perfect."
If you'd have to compare your band to another one out there, living or dead, who would it be and why?
"It would probably be Megadeth and Black Sabbath because I've enjoyed their music so much over the years."
Which band/musician would you like to share many drinks with? What would you talk about?
"It would probably have to be Ozzy Osbourne, because he's pretty entertaining and Black Sabbath was one of the first heavy bands I listened to. I would be interested in hearing from him what it was like creating something as original as Black Sabbath was when they started (providing I could understand what he is saying…it can be difficult at times)."
Please be sure to follow us on Twitter @riffyou and at Facebook.com/riffyou.