Getting to Know: Grungy Blues Rockers, Bella Clava

In today's Getting to Know, we meet Toronto-based grungy blues rockers Bella Clava, a band that believes the better their internal friendships are, the better the music will be. If you are in an up and coming band that would like to partake in a Getting to Know feature, contact editor@riffyou.com to receive the questionnaire and instructions. Thanks!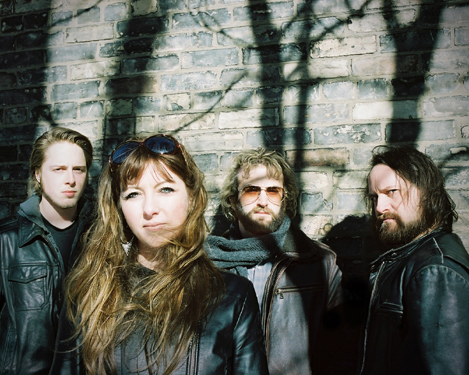 Band Name:  Bella Clava
Band Members: Caitlin Dacey (keys, organ, guitar, vocals), Stephen Suttie (guitar, vocals), Scott Hannigan (bass, vocals), and Jody Brumell (drums, vocals).
Years Active: 6
City of Origin: Thunder Bay/Toronto, ON.
Who are you and what do you do?
"My name is Caitlin and I do music."
In 100 words or less, tell us how your band has gotten to this point.
"Having fun; respecting each other's points of view; getting to know each other beyond the rehearsal space; and making good communication a priority. Nobody wants to be in a band where they don't feel respected or heard. Nobody wants to be in a band with a bunch of strangers. The better we understand each other, the more likely we will reach our collective goals. Sometimes the truth can hurt, but fortunately no one's ego is so fragile that they can't handle it. I don't think a perfect band exists, but the fact that people commit to the band and stick around during the dark periods, shows the kind of depth of character that I appreciate in a bandmate…and friend!"
What is your latest release and how would you best describe it to someone who hasn't heard your band?
"We are releasing an LP called Medicine for Melancholy this spring. In a nutshell, it's a fuzzed out, blues rock racket with a grungy backbone."
When making an album, which aspect of the process do you put the most time into and why?
"Definitely song writing.  We produced this record ourselves, so getting the songs to a point where they felt exciting from start to finish was a priority. We recorded our last album three years ago, which feels like a lifetime ago. Since then, we've met our soul-mate of a drummer, Jody, who is such a versatile player. His joining the band was a true blessing, as it allowed us to go more confidently in directions that had previously felt awkward.
"We've always been open to taking risks, but with this record it feels like the risk-taking paid off.  Because we recorded live-off-the-floor at Rancho de la Luna, we had absolutely no time for post-production. We had five days to record what we heard in our heads…..no time for multi-tracking guitar solos or bringing in a string section (though that would have been a blast!), so we had to have our arrangements down pat.  Steve had to move to Thunder Bay for work, so rehearsals became few and far between.  Fortunately, this galvanized our desire to play together and made our time together more focused and valuable."
What is the best part about your band and why?
"Honestly, the chemistry. It was a lot of fun writing this record because everyone added their own personal ingredients, making for a delicious aural cocktail…ha ha! Together, we work efficiently and there is little time wasted on ideas that simply don't work. A few days before we left for the desert, I brought in an idea that had been running through my head the night before, and as I was showing it to the band, everyone started adding layers and it evolved into something beautiful.  The song, "Broken Spirit," came together so naturally and is one of my favourite songs we've ever written."
What makes your band unique from the rest?
"I can only speak to my experience playing in other bands or with different players because you truly don't know what makes a band tick until you're in it…but I value our history together as a band and it's one's history that makes one unique. We've survived a lot of personal stuff together.
"To find like-minded, kindred spirits in a world where there are so many useless distractions is not an easy feat. It's a marvel that any band can stick together. I've encountered people who are motivated by 'success' and/or popularity and eventually learned to avoid them. If you spend time together, listen to records, get excited about new music, and inspire each other with new ideas, then that in itself makes your band special…because that doesn't happen in every band."
How does your band survive the challenges of touring/gigging?
"Primarily by being flexible and patient with each other. We do our best to accommodate each person's needs and work really well together as a team. It can be discouraging when no one shows up to your gig, or a promoter rips you off, so being able to make each other laugh is vital.  Do fun things together like go to the movies or cook up a feast.  Assist each other with gear and transportation, and the other 'work' involved in booking and preparing for gigs/tours. Don't leave your bandmates hanging. Be inclusive and empathetic. If you have a terrible set, stay positive and don't dwell on it! Be appreciative and acknowledge every time your bandmates are kind to you!"
Would you rather be critically-acclaimed; rich and famous; or an under-the-radar band with a dedicated fan base?
"Without a doubt, an under-the-radar band with a dedicated fan base. Louis CK has a theory of the 'sweet spot' in which only the people who truly appreciate what you're doing know you exist. Beyond that, you start attracting attention from people who despise your work and start to resent you!  I'd much rather be discovered by someone who finds us interesting than shoved down the throat of someone who's doesn't.
"I want to be able to consider the people that like our music, friends. I want to connect with people. I'm not interested in trying to win anyone over or impress anyone. This is why it's so important to be yourself.  Our band exists because every member genuinely loves playing.  We love to jam with whoever's up for it…there is no agenda. The thrill for us lies in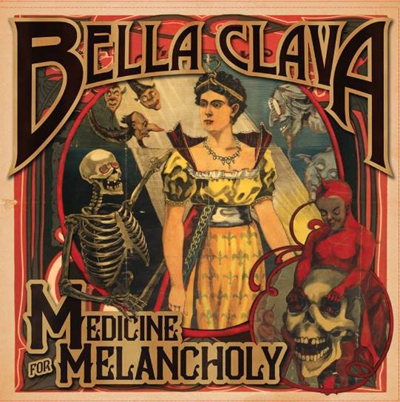 writing a great song, not whether or not people will dig it. Phonies bum me out. Don't try to convince the world that you're great. Something good and pure doesn't need convincing."
If you'd have to compare your band to another one out there, living or dead, who would it be and why?
"I had to use the 'phone a friend option for this one, and ask around, as I find questions like these really difficult! The answer I liked the most was a Janis Joplin-fronted Deep Purple. I would not consider my chops anywhere near Joplin's or Lorde's, however, if I can harness any of the greatness that they achieved in their early 20s before I turn 50, I will consider that a true accomplishment. I am a slow learner. Being backed up by power houses like Steve, Scott and Jody certainly does make me feel confident….like anything is possible! They truly do embody the classic rock spirit. Someone else said Aerosmith, if you replaced Joe Perry with Katy Perry. As long as Steve is Katy Perry, and not me, that works!"
Which band/musician would you like to share many drinks with? What would you talk about?
"My dream came true when I met my favourite musician, Josh Homme of QOTSA, in Toronto back when Steve and I were just putting the band together. I crashed a private party at The Hideout on Queen West and was able to ask him all of the questions that the articles and interviews I'd read failed to answer. He was incredibly kind and generous with his advice about starting a band, finding a drummer and song writing. He talked about getting that 'first date feeling' after you jam with someone with whom you have good chemistry. It totally resonated with me as I'd felt the butterflies in my stomach when playing before. He was encouraging and validated my feelings as a fledgling musician and for that I am forever grateful. He speaks in puns and riddles and has an amusing way of communicating."
Please be sure to follow us on Twitter @riffyou and at Facebook.com/riffyou.